HP Spectre x2 review: A Surface clone for a lot less cash
It has touch. It has pen support. It has the same cover-style keyboard. But there are differences, and we dive deep into them here.
One more notable difference: Where the Surface Pro 4's kickstand tilts from about 15 to about 75 degrees, the Spectre x2's range is a briefer 15 to 60 degrees. On occasion you'll wish you had that extra few degrees.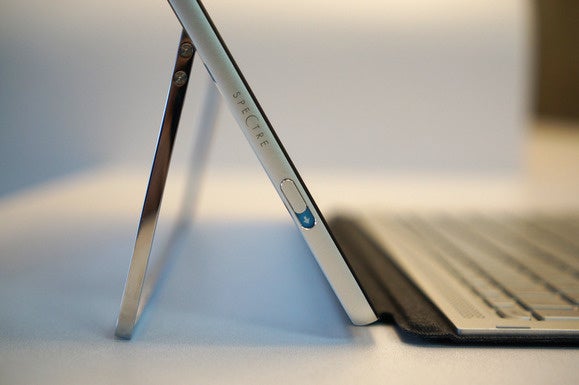 The Spectre X2 uses a frame-style kick-stand rather than the solid piece of the Surface it apes. To release, you have to slide that tiny little switch. Credit: Gordon Mah Ung
The keyboard's keys are backlit and well-spaced. The action is good and every bit as comfortable as the Surface Pro. An aluminum deck adds a little more rigidity compared to the Surface Pro 4 and helps prevent keyboard bounce when used on your lap. It also makes the keyboard a little heavy.
HP missed an opportunity by only using the magnet on one side. I'd welcome a magnet that holds the keyboard when folded against the back too.
The click-style trackpad is very wide and generally a pleasure to use once you get used to the wider aspect ratio. I did have to turn up palm rejection, and the piano hinge makes it more difficult to "click" at the top than at the bottom. The trackpad is Microsoft-Precision-Touchpad-certified and uses the Microsoft drivers for gesture controls.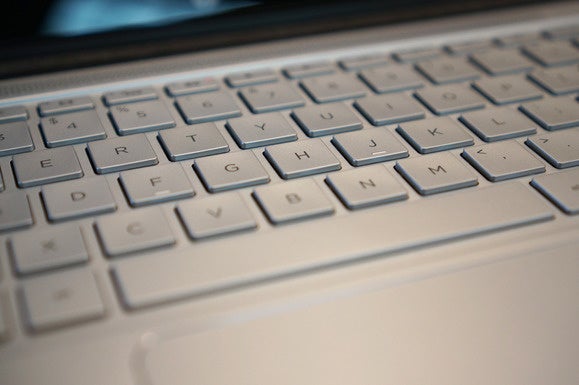 The keyboard has good action and no obvious button placement errors. Credit: Gordon Mah Ung
The audio's not bad—see Lenovo's LaVie Z—but you won't win any beat box contests with the Spectre x2 either. The tiny speakers just past the function keys, and two more in the tablet body, are slightly less impressive and slightly more shrill than the Surface Pro 4's array. You lose some of the output when the keyboard is removed, and audio fires away from you when the keyboard is folded back.
For ports you get an analog combo audio port, MicroSD and two USB-C ports. The USB-C implementation supports charging through either side, and HP wisely includes a USB-C to USB-A dongle. Frankly, I'd rather see a standard USB-A port on PCs until the shiny bright world of of USB-C is truly universal. Lose that dongle on the road and you're toast. The USB support is listed as USB 2.0 on HP's website, but the it appears to be an Intel USB 3.0 controller. Alternate mode for display out is supported, and I tested HDMI with no issues. But you'll need to buy the dongle for that.
A RealSense camera on back
The Spectre x2 features an integrated webcam in front and interestingly, a RealSense camera on the back. Where the Surface Pro 4's front-mounted, RealSense-like camera is intended for facial recognition with Windows Hello, HP expects its camera to be used for RealSense applications. Right now it's a work in progress: The one app available was a beta for itSeez3D, which allows you to make 3D models of a person. I tried scanning a co-worker in two different lighting situations, and the results weren't pretty.
Previous Page 1 2 3 4 5 6 Next Page