HP Spectre x2 review: A Surface clone for a lot less cash
It has touch. It has pen support. It has the same cover-style keyboard. But there are differences, and we dive deep into them here.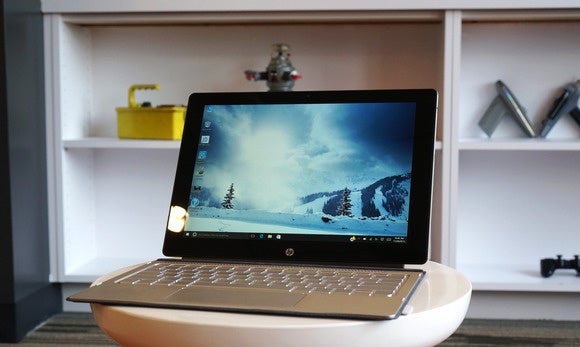 HP's formula for its new Spectre x2 is pretty simple: Clone the look and feel of Microsoft's popular Surface and sell at a price that heavily undercuts it. But the result is actually a lot more nuanced.
By clone, I mean most people who see the Surface—err, Spectre x2 will actually think it's a Surface Pro 4. It has touch. It has pen support. It has the same cover-style keyboard that attaches magnetically and flips around for tablet mode—I'm surprised it isn't cyan-colored.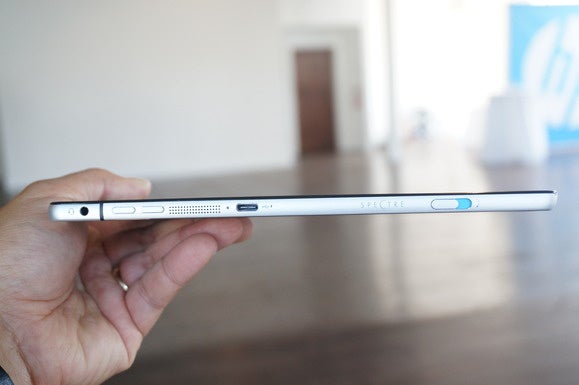 The Clone Wars: The Spectre 12 x2 is 8mm thin and 1.78 pounds. With its keyboard, it'll push 13.2mm and weight 2.7 lbs. Credit: Gordon Mah Ung
It's hardly a carbon-copy, though. Our review will show subtle and not-so-subtle differences that could make or break the decision for some, but for many, it'll come down to price. Regardless of the details, compared to the Surface Pro 4, the Spectre x2 offers a lot of value for the money.
Sizing up a Surface clone
The Spectre x2 is a svelte 8.5mm thick—just over 13mm with the keyboard. That's pretty much a clone of the Surface Pro 4's thickness.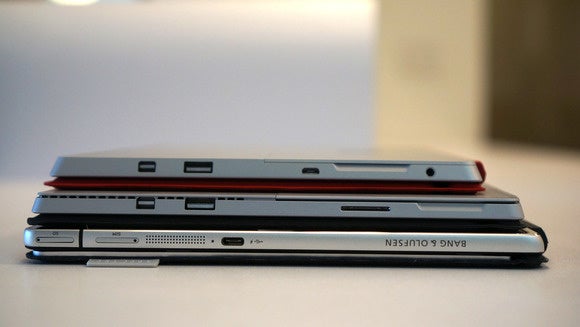 Here's how thick the Spectre X2 is compared to the Surface Pro 4 and Surface 3. Credit: Gordon Mah Ung
It's definitely larger, though: 11.75 x 8.25 inches tall, compared to the Surface Pro's 11.5 inches wide and a scant 8 inches tall. That makes it the largest of the Surface-style devices other than the Surface Book.
The Spectre x2's display resolution is 1920x1280 for a 3:2 aspect ratio, compared to the odd-duck Surface Pro 4 res of 2736x1824. Both have 12-inch screens. The Spectre x2 panel in our unit seemed skewed toward blue and was also limited to 330 nits' brightness compared to the Surface Pro 4's 380 nits. Users may be more bugged by the the large bezel—It's almost MacBook Air-like in girth.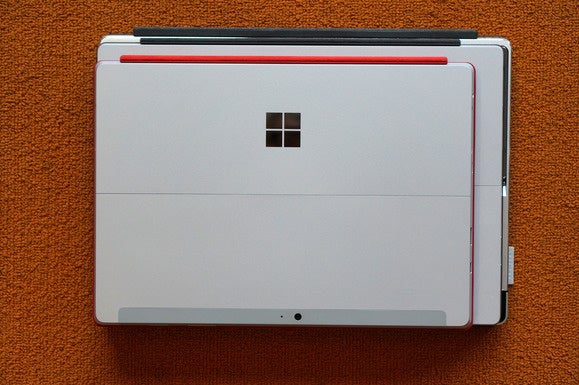 You can see the size of the HP Spectre X2 peeking out from the bottom with a Surface Pro 4 and a the much smaller Surface 3 piled on top. Credit: Gordon Mah Ung
Rather than a lid-style kickstand, HP opted for a frame. The company said this allows a larger chassis for more hardware. With the Surface, you pull on the kickstand to release it. With the Spectre x2, a slide switch releases it. On a few occasions the kickstand didn't pop out enough, forcing me to start over. The piece is metal and strong enough that it doesn't feel like it'd break off, even if you used it as an ad-hoc handle.