HP Spectre 13.3 laptop review: Thin doesn't have to mean compromise
HP's Spectre 13.3 delivers competitive performance and a respectable keyboard, in spite of its super-svelte body.
You might not think it's possible to build a super-thin laptop without compromise. But you would be wrong.
At least that's the takeaway after reviewing HP's Spectre 13.3, which offers top-notch performance and a reasonably good keyboard in a body that lays claim to being the "thinnest laptop in the world."
The thin test
Determining a laptop's thinness can be tricky since laptops aren't uniform blocks (well, except for that original Google Pixel). Most laptops are wedged, so at what point do you compare their relative thickness? The 2016 MacBook 12, for example, is 13mm thick at its rear, with the front lip getting down to 4mm. The Spectre 13.3 is, for the most part, 10.4mm to 10.5mm, with the back end measuring about 12mm. (And no, neither measurement takes into account the laptops' rubber feet.) Given such variances, probably the best way to determine thinness is by eyeballing it.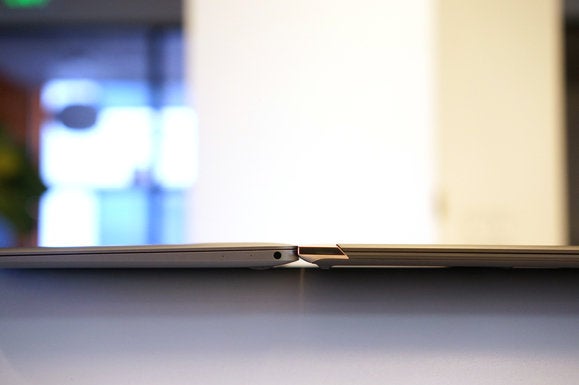 This picture of the Spectre 13.3 (right) next to a 2016 MacBook 12 gives you an idea how just how thin HP's laptop is.
No compromises (well, there are a couple)
The thing is, everyone knows Apple made a few compromises on the MacBook 12 to make it the "thinnest Mac ever." You only get one USB-C port and at just 5Gbps. The laptop also uses a low-power Intel Core m chip. While I think the Core m often gets a bum rap, there's no denying that it gives up performance against a Core i7-class chip, which the HP Spectre 13.3 offers.
Another controversial feature of the MacBook 12 is its low-travel keyboard to save space. I've only met one person who said he actually prefers the MacBook 12 keyboard, and his opinion was delivered sheepishly—the same way you'd say you used the last bit of toilet paper and didn't replace the roll.
HP managed to get a keyboard with a full 1.3mm of travel into the Spectre while still keeping the body 10.4mm thick.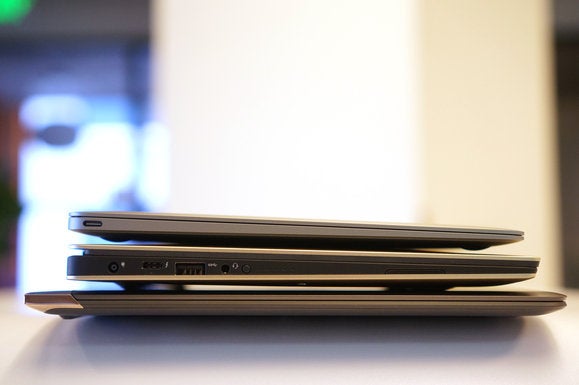 The Spectre 13.3 is thin, but it's also got quite a footprint, as you can see in comparison with the 2016 Dell XPS 13 and 2016 MacBook 12 stacked on top of it.
Granted, the Spectre's thinness negates the integration of USB Type A ports, but HP makes up for it. The Spectre has a single USB-C (5Gbps) and two Thunderbolt 3 ports. All three support charging as well, but only with HP chargers.
So you get a full-travel keyboard and Core i5 or Core i7 power. There must be some compromise, right? Well, yeah. The screen.