HP Elite x2 1012 G1 review: Intel's Core m gets the job done in this sturdy convertible
Just be a bit careful when using it on your lap.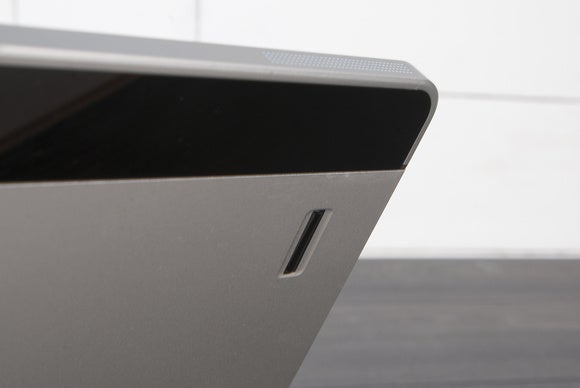 A fingerprint reader hides behind the tablet, that can be used in conjunction with Windows Hello. Credit: Rob Schultz
The other feature that distinguishes the convertible tablet from today's notebooks is the pen or stylus, which the Elite x2 includes. But tablet makers treat the pen like a gawky teenager treats his hands: They're never sure where to put them, exactly.
HP's solution is to supply a user-installable string loop. which literally ties the pen to the tablet itself. That helps keep the pen from wandering off while in a briefcase. On a desk, though, it's like the proverbial note pinned to a child's shirt to ensure it doesn't get lost.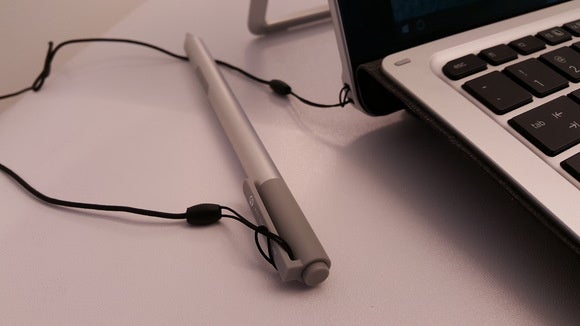 String loops threaded through the tablet hold the pen securely.. Credit: Mark Hachman
Otherwise, the pen is fairly standard, with "select" and "erase" buttons as well as a "eraser" button that doesn't actually erase; it just launches OneNote. Inside is a AAAA battery. If you're a digital artist, you'll like the fact that the Wacom digitizer boasts 2,048 levels of pressure, double that of the Surface Pro 4. To me and the average office user, however, that's an abstract number with no real value.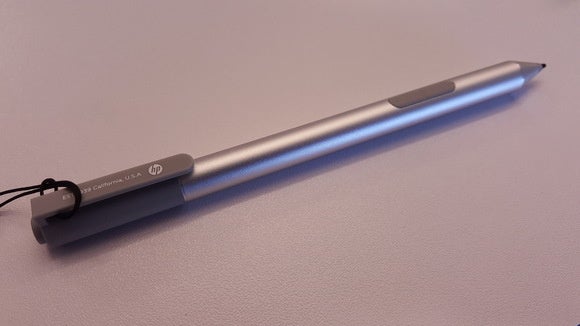 The HP Elite X2's pen is about on par with the Surface series, albeith with improved pressure sensitivity. Credit: Mark Hachman
As with the Spectre x2, I found the Bang & Olufsen speakers somewhat faint, especially compared against Microsoft's surprisingly loud Surface 3 speakers. Otherwise, the Elite x2 is part of the new generation of USB-C tablets, with the USB-C port combining Thunderbolt and USB 3.1 capabilities for both charging and docking. There's also a more conventional USB 3.0 port. Inside the tablet hides 2x2 802.11ac Wi-Fi capabilities, Bluetooth 4.2, WiGig wireless display, as well as optional LTE broadband. HP included a microSD slot as well. Incidentally, if you're wondering why the Elite x2 has such a massive bezel, blame the wireless, especially the WiGig connection, HP says.
Somewhat disappointingly, there's only a 2MP camera in front, with a 5MP camera in in back. Rear cameras are useful for scanning documents and recording meetings, but there should be a higher-resolution camera in front for Skype calls.
HP also offers some optional peripherals: USB-C to HDMI or VGA adapters, plus a dongle to connect USB 3.0 to Gigabit ethernet. An optional $209 dock also includes a USB-C port that charges devices up to 15 watts; two DisplayPort 1.2 ports; a VGA port; a Gigabit ethernet port, and three USB 2.0 ports, with a fourth supplying power. HP didn't supply any of them for review.
Previous Page 1 2 3 4 5 6 Next Page