HP Elite x2 1012 G1 review: Intel's Core m gets the job done in this sturdy convertible
Just be a bit careful when using it on your lap.
Out of the box and ready to go...
Out of the box, the Elite x2 convinces you that it means business. The busy keyboard is covered with LEDs and multiple key functions, a visual break from the minimalistic Spectre x2. Unlike the Surface Pro 4 or Lenovo ThinkPad X1, HP coated the top of the keyboard in aluminum, though underneath lies the familiar quasi-fabric of the competition. Add to that the rugged metal kickstand, and the overall impression is that the tablet will hold up to repeated use.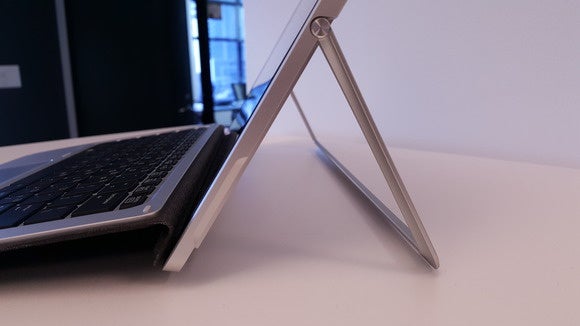 The Elite X2's kickstand is durable and relatively comfortable to use. Credit: Mark Hachman
One of the features that distinguishes the convertible tablet is the kickstand. The Elite x2's metal kickstand swings out from the midpoint of the tablet on a hinge, freely reclining the entire tablet to a maximum of about 40 degrees. Resting the pointy end of a kickstand on your thighs still isn't particularly comfortable, though the slightly chamfered edges are thick enough to avoid the picnic-knife edge of the Surface tablets.
Three features sell the Elite x2's keyboard. First, a series of small rubber bumpers serve as resting points for the screen, protecting it when folded down. Second, the Elite x2's trackpad is superb, providing both a glassy smooth surface and a satisfying click. Finally, HP slipped in a numeric keypad for data entry. You'll need to turn on the Numlock key, though, which dedicates the existing "U I O" keys, as well as those above and below, for number-pad duty.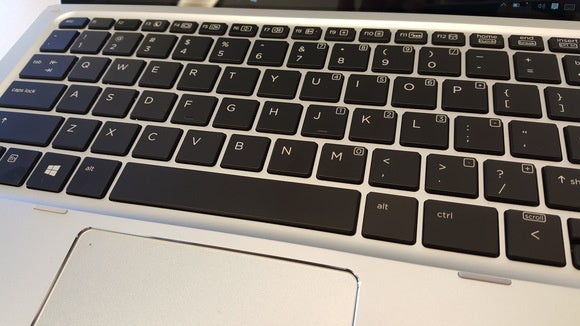 The Elite x2's keyboard is busier than some, though relatively comfortable to type upon. Credit: Mark Hachman
Though I still prefer the keys of the ThinkPad X1 Tablet or even the older Surface Pro 3 Type Cover, you should find the x2's keyboard comfortable enough for prolonged use. HP embeds all of its LED indicators in the keys themselves. A full row of function keys at the top includes controls for muting your mic and speakers, adjusting the volume, and so on.
Otherwise, however, HP has to make the same sacrifices as other convertible tablet makers do: The keyboard is thin, which gives the scissor keys a decidedly hollow sound when you type. HP offers a pair of keyboard options: The $149 HP Elite x2 1012 G1 Travel Keyboard, which we tested, measures 0.24-inch thick and weighs 0.85 pounds. The other option is the $199 Advanced Keyboard, which is a slightly thicker (and presumably sturdier) 0.34 inch and 0.99 pounds. (The latter includes NFC and a smartcard reader.) Both are full-sized keyboards and offer 1.5mm of key travel, which was sufficient for my tastes.
Previous Page 1 2 3 4 5 6 Next Page