HP Elite x2 1012 G1 review: Intel's Core m gets the job done in this sturdy convertible
Just be a bit careful when using it on your lap.
HP designed its 12-inch Elite x2 convertible tablet with notebook-class ruggedness in mind, and it largely succeeds. But while it offers seriously solid competition for the Microsoft Surface Pro 4, a few features fall short of the bar.
Unlike Microsoft's Surface Book, which emerged after several generations of Surface tablets, the Elite x2 evolved from HP's notebook line as well as its more consumer-focused predecessor, last year's Spectre x2 convertible tablet. Buy an Elite x2, and you'll probably be pleased with the stability of the keyboard, the integrated Windows Hello fingerprint sensor, and the superb trackpad. Just be wary of using it on your lap: The magnets holding the tablet in place seem weaker than their competition, potentially allowing the x2 to tumble to the ground.
That's OK, however, because HP says the Elite x2 can withstand a 36-inch drop onto a wooden floor. My wife accidentally tested that claim, knocking it off a low 24-inch table onto thin carpet without a scratch. Even a Wide World of Sports crash will just necessitate sending the x2 to your IT department. HP expressly designed the x2 to allow access to its innards for upgrades, or component replacement, including the screen.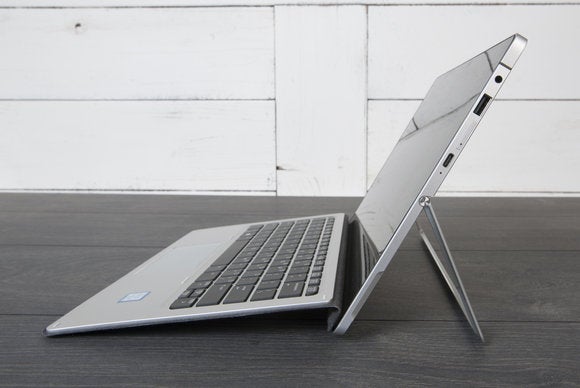 Credit: Rob Schultz
The SUV of convertible tablets
Though Microsoft's Surface series is often considered to be the premium, priciest tablet option, Microsoft's Core m3 version of the Surface Pro 4 costs just $899, with 4GB of RAM and 128GB of storage. (You'll need to buy the $130 Type Cover, too.) HP, however, chose to architect what might be called a premium budget tablet: The $1,399 Elite x2 version we tested houses a 1.1GHz Core m5-6Y54 chip inside (with Core m3 and Core m7 options), a slightly less powerful alternative to the Core i3, i5, and i7 chips found in the upper-echelon Surface machines.
Still, the Elite x2 blows away the SP4 with low-power DDR3-1866 memory options up to 8GB, plus SSD storage up to 512GB using either a SATA or even a PCI Express interface. Furthermore, it supports Intel's vPro technology, giving IT administrators access to a suite of manageability technologies and justifying that premium price to corporate bean-counters. The keyboard is included in the price of the tablet, too.
The Elite x2 measures 11.8 x 8.4 x 0.3 inches, widening to 0.6-inch thick with its keyboard connected. All that stability translates into more weight, however: With its keyboard, the Elite x2 tipped the scale at 2.64 pounds, slightly more than the Surface Pro 4 (2.4 pounds) and the Lenovo X1 Tablet (2.28 pounds). The charger adds another 0.56 pounds, for a total of 3.2 pounds.