How to share Live Photos with non-iPhone users on Instagram and via text
Love taking Live Photos with the iPhone 6s? These 3 apps can share Live Photos even outside the iOS ecosystem.
The best thing about Live Studio, however, is that it also works the other way around: giving you the option to convert videos, GIFs and photo-bursts into Live Photos. Talk about magic, the Live Studio app has somehow tapped into Apple's Live Photo-making technology. We converted a video clip into a Live Photo, and we were able to activate the Live Photo when we deep-pressed it. This works even with videos clips that are longer than three seconds (Live Photos "move" by capturing 1.5 seconds before and after you tap the shutter), in essence giving you the ability to create longer-lasting Live Photos. This is great for converting a video clip or GIF that you would like to set as an animated wallpaper on your iPhone 6s.
PicPlayPost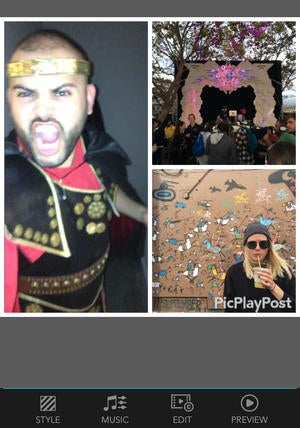 Let's say you take so many Live Photos that you want to share a few of them in collage form, PicPlayPost (iTunes) will help you do just that. This app creates a single collage from different types of media: photos, video, GIFs and now Live Photos. The app is free, but it's a single $3 in-app purchase to remove the watermark from all exported collages.
Begin by selecting the layout of your collage and tap to add a "Photo & GIF." If you pick a Live Photo, the app will ask you if you want to use the still photo or the Live one. You can choose whether each Live Photo plays on a loop, and even add music to your moving collage. After you finish putting it together, PicPlayPost will convert the Live Photo collage as either a video or a GIF.