How to set up an iTunes library on a network-attached server
Free your iTunes media from the shackles of a hard drive on your Mac.
The MyCloud, like some other NAS devices, also has an iTunes server feature, which lets you stream music from the device to a computer running iTunes or to an Apple TV. This means that any computer in your house can stream your media files, without the Mac whose library is stored on the NAS running.
Moving your iTunes library
When you've chosen your device and set it up, it's time to move your iTunes library. There are two ways you can do this, and each option has pros and cons.
You can move just your media files to the NAS, and keep your iTunes library files on your Mac.
You can move all your iTunes files (media and library files) to the NAS.
Move just your media files
In your home folder is a Music folder, and, in that, an iTunes folder. This contains a number of files, such as your actual iTunes library file, and some support files. There's also an Album Artwork folder (which caches artwork from your media files), and an iTunes Media folder, which contains sub-folders for different types of media: Music, Movies, TV Shows, etc.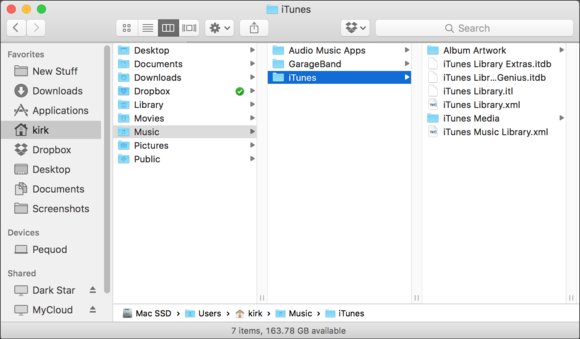 These are the files in your iTunes folder.
If you move just your media files, then your Mac retains your iTunes library file, as well as some other files; all those in the screenshot above, other than the iTunes Media folder. The advantage to keeping these files on your Mac is that when iTunes updates its library file—which happens any time you make changes to any files in your iTunes library—this process won't be slowed down by your network. However, if you have a fast Wi-Fi router, such as a recent AirPort Extreme, you shouldn't notice any lag.
However, if you move just your media files, you must ensure that your NAS (or any external drive) is mounted when iTunes launches. If iTunes doesn't see that drive, it will search in your Music folder for your media, and won't find it. It will then switch the location of the media folder in its preferences to that local folder, and copy any new files there. And this gets messy.
If you want to move just the media files, do the following:
Back up all your files; because accidents happen.
Ensure that the NAS is mounted in the Finder.
Create a new folder on the NAS; call it iTunes, or something similar.
Launch iTunes, choose iTunes > Preferences, and then click Advanced.
In the iTunes Media folder location section, click Change.
Navigate to the folder you created in step 2 and click Open, and then click OK.
Change the location of your iTunes Media folder in the iTunes preferences.
Choose File > Library > Organize Library, and check Consolidate files. This tells iTunes to copy all the media files currently on your Mac to the new location. This may take a while, depending on how many files you have, and how fast your network is. This may mean allowing the copy to run overnight.