How to get everything off your old Android phone and onto your new one
No one wants to spend forever moving all their stuff to a new phone. Here's a quick and painless guide to get you up and running fast.

The Google Settings app has a lot of useful controls for saving your data.
First, select Smart Lock for Passwords. This stores passwords from your supporting apps and websites to your Google account. This way if you sign in with Chrome on your new phone won't have to re-enter the password. It works on some third-party apps, if the developers have built in support.
Right now there are only a few that work with this feature, so your best solution is still a password manager. Dashlane is our current favorite, though LastPass, 1Password, and others have plenty of fans.
The other key piece to look at right now is Google Photos Backup. This will send all your images and videos into the safe arms of Google Photos. You're granted unlimited storage, as long as you can put up with a little compression. Otherwise any content will count against your Google Drive storage, which includes 15GB to start.
Transfer SMS and MMS messages
Moving over text messages is usually the wonkiest and most inconsistent part of this process. My main advice is this: use an over-the-top service. With Facebook Messenger or Hangouts all you have to do is sign in and voilà! All your messages are right there. Same goes with WhatsApp, which just launched backup with Google Drive.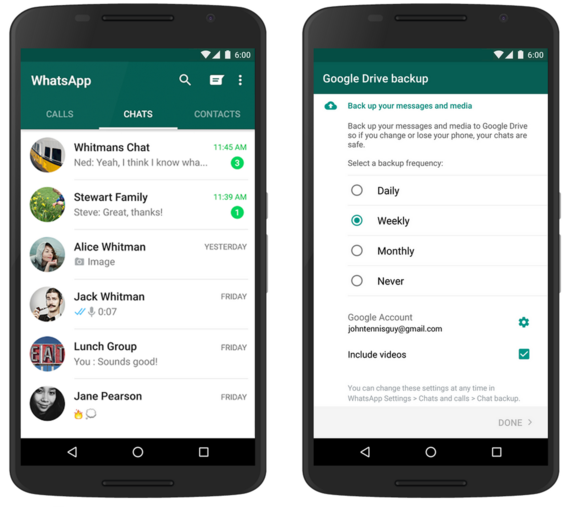 All your WhatsApp messages can now be backed up to Google Drive. Credit: Google Drive Blog
If you're dead-set on moving your SMS and MMS messages, a favorite solution of mine is SMS Backup & Restore. It takes some patience to work through the options. Also, the design is more suited to Android Jelly Bean, but it gets the job done. The app will offload your messages to a microSD card (if your phone has one). Otherwise, export them to a PC and then use the app to restore them on your new phone by using Android's ability to connect to a PC.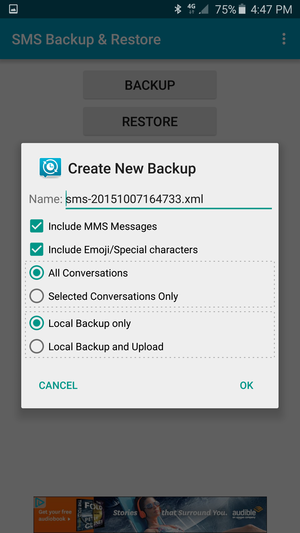 SMS Backup will offload your text messages and then import them to a new device.
I gave it a recent test, and was able to back up and restore a batch of messages on my own device. I have a pretty small amount, as most of my messaging takes place in over-the-top services. So your results may vary if you're moving thousands of messages over.
If nothing else, let this be a lesson—don't wipe your phone until your new one is operational. This way you have access to all your old stuff before it's gone forever.