How to get bokeh and depth of field tricks without an iPhone 7
Jealous of all those cool tricks that are coming to the iPhone 7? With some software trickery you can make the images shine on your current iPhone.
The only aspect of this approach that's slightly annoying comes with some of the limitations of iOS. There's no way to make another camera app your default shooter, so swiping left from the lock screen is always going to take you right into the stock Camera app. One way around this, thanks to iOS 10, is through widgets. You can place the Camera+ widget, for example, in your list and then you'll be able to swipe right from your lock screen, then tap the widget, so when you do unlock the phone, you'll go straight into that app.
Post processing to the rescue
If you don't want to change camera apps, there's plenty you can do on the back end to get the look that you want. If it's a quick and easy bokeh effect you're after, I've had success with Fotocam Bokeh and Bokeh Photo.
You'll get a ton of bokeh-inspired filters to overlay on your existing images. You'll want to spend time playing around to get the desired effect, but with some patience you can come up with images you'll be eager to share.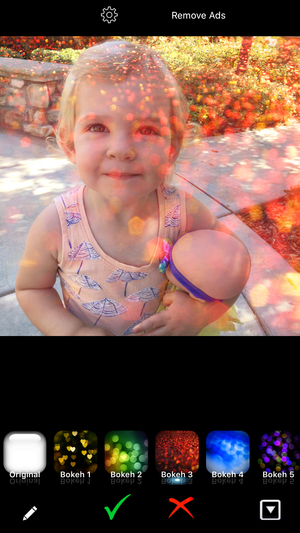 That bokeh effect can be yours by playing around with different apps.
This approach also works with some of the camera apps themselves. Camera+ in particular has many depth-of-field tools and other filters (some will cost you). I'm also a fan of Afterlight and Snapseed if you want a filtered approach.
Some of the capabilities may also depend on which iPhone you have. For example, some advanced features in Lightroom, like working with DGR image files, require a 12-megapixel camera, found in the iPhone 6s, 6s Plus, and SE.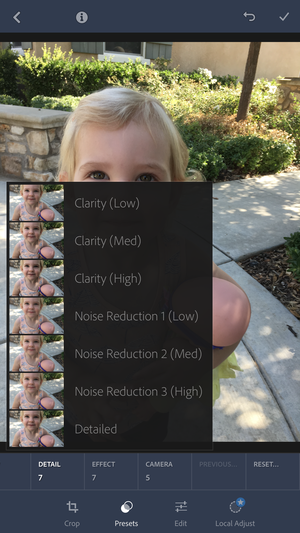 Adobe's Lightroom is the ultimate choice for on-the-go editing, though more advanced features require a Creative Cloud subscription.
We won't know exactly how these methods compare until Apple pushes out the software update to enable Portrait mode in the iPhone 7 Plus. But looking at what's available—and what developers will be able to do with the new APIs in iOS 10—there's no reason you can't achieve awesome effects with the iPhone you already have.