How to enable Android notifications on the Windows 10 preview
The feature is a work in progress, but it offers a hint at how your PC might integrate more deeply with an Android phone.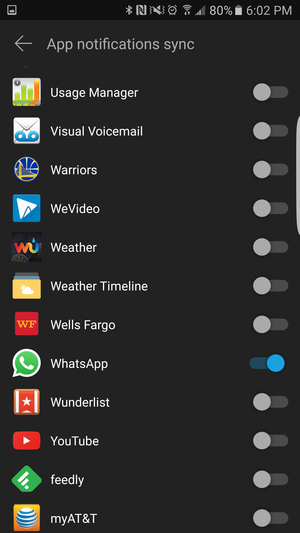 Decide which notifications you want to hear about on your desktop.
You may have to wait a few minutes for notifications to first show up. Give Cortana a little bit of processing time and soon you'll hear the pleasant Windows notification sound the next time you get an alert on your phone.
Good, but not yet great
The most useful content to come across are text messages, as you'll be able to not only view those but respond with an in-line reply. Same goes for Google's Hangouts, though I definitely found there to be a delay when sending these across.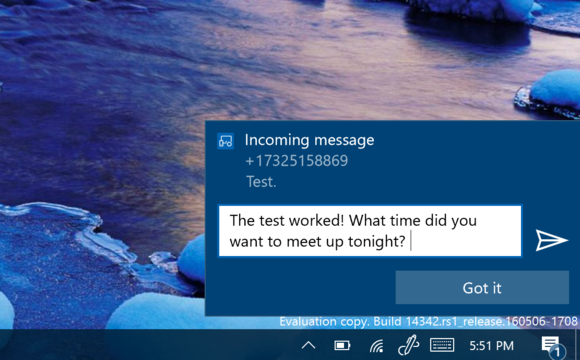 You can reply to messages and get back to what you were doing very quickly.
Other notifications are less useful. The Google App will show up from time to time to tell you there's more weather information or some other detail awaiting you on your phone. When you click this notification, as well as others, you'll get uninformative details from Cortana, like in the screen below: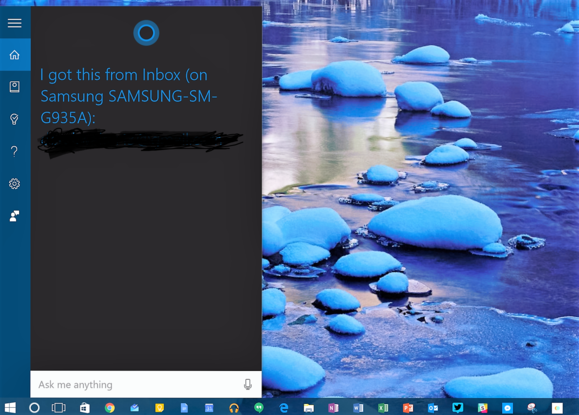 Some notifications are more limited in how much informaiton the provide.
There are other quirks. When you respond to a text via your PC, you'll get a message from Cortana on your phone that, you guessed it, you sent a text.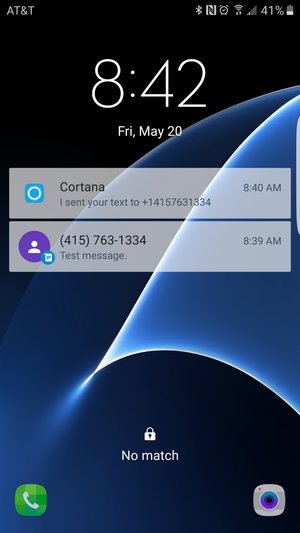 Cortana will let you know that it sent a text, though it won't replace the original text notification.
For now, you have to look at the feature as a work in progress. There's a lot of potential, for instance, in how Cortana will group your notifications together in the Action Center, which you can then check on all at once.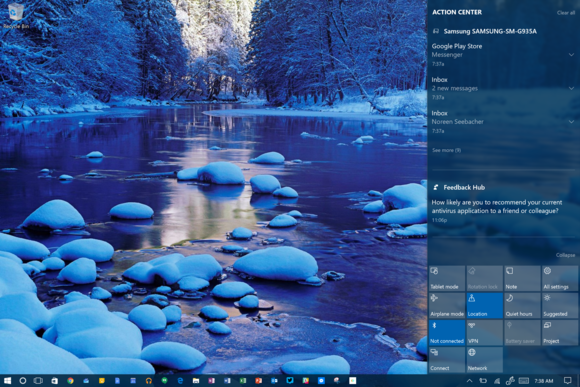 Leave your phone on the desk and let Android notifications come to you.
You can't yet take phone calls on your PC, but you can get a notification if you've missed a call while you ran off to load up on snacks. The ability to make and take calls, however, would be another powerful motivator to implement this feature on your PC.
Looking for more
This connection with Android is a great start. But to be truly useful there needs to be deeper integration between Android and Windows, which I expect to come by the time the Anniversary Update hits later this summer.
The SMS and Hangouts services could use a speed boost, and Cortana needs to find ways to let you respond to and view the content of more apps. And be aware that if you're running Chrome you may get double notifications from services that are already pumping out a push alert through Google's browser.