How to configure your Chromebook for ultimate security
Chrome OS is already tops at security, but with a few extra tweaks you can ensure the gates are even more secure.
When it comes time to sell your Chromebook or pass it down to a needy friend or family member, be sure to wipe it of all identifying information. It's a straightforward process: Sign out of your Chromebook, then hold Ctrl + Alt + Shift + R. Then click Restart and Reset.
Going with a little less Google
Maybe you don't want Google itself to follow your every move online, sharing your searches with Google's other services (which can sometimes provide interesting results). One solution is to switch your default search provider to DuckDuckGo. It's a privacy-focused search engine that doesn't track your search history.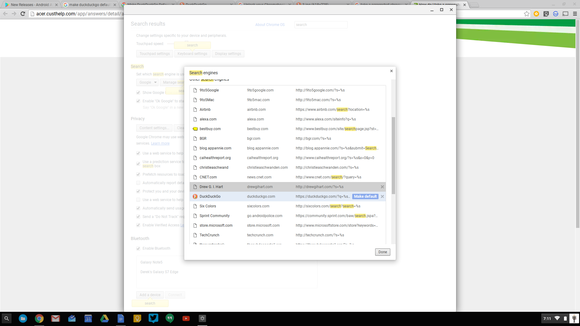 DuckDuckGo is a search engine focused on privacy.
To do this, go to DuckDuckGo, right-click in the address bar, and select Edit Search Engines. Then from the list of search engines, click the Make default button next to DuckDuckGo. Now when you type a search query in Chrome, it will be powered by the quacky search engine that keeps your secrets safe.
You can also maintain privacy by signing in to Chrome's Guest Mode, which is totally detached from your personal profile, settings, history, etc. All you have to do is sign out of your current session and get going as a guest.
Going darker
You can further minimize Google's hold on your personal information by turning off autofill and automatic sync in Chrome. By doing this, Google won't automatically try to put in your name, address, email, and other details wherever you go to fill out an online form. While the autofill feature is definitely convenient, you may not want to have this always at the ready. Killing off sync means your search history and other preferences will remain local to that machine.
Go to Settings > Advanced Sync Settings and uncheck the Autofill box. If you like the convenience of synced data and passwords, but just don't want to give it to Google, consider a password manager.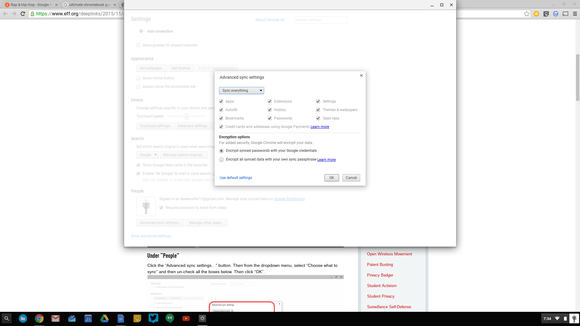 Manage your sync settings to keep tabs on your past Internet usage.
If you really want to go deep into the privacy woods, you can switch up your DNS server to a provider that won't log or retain these lookups. By default, your administrator or Internet service provider may retain this information.
To change the DNS settings on your Chromebook, first head to the the Chrome menu, choose Settings > Internet Connection and then click on your network.
Then head to the Network tab and choose Custom name servers. You can enter in the following details from DNS Watch, which advocates for data privacy. Enter 84.200.69.80 for server 1, and 84.200.70.40 for server 2. Choose Disconnect. Then, select the network again and choose Connect. This will change the switchboard from sending your traffic through your ISP.