How to clean your Windows registry and speed up your PC
A cluttered registry can slow Windows to a crawl.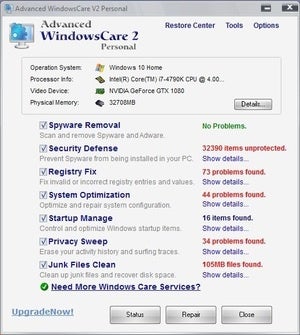 Advanced WindowsCare Personal detected a littany of issues with our test system.
Though Advanced WindowsCare found 323 registry issues, its presentation of the scanning results was pitiful. Unlike other tools that supplied detailed information about each problem, a choice of fixes, or a way to open the registry to see the actual entry, Advanced WindowsCare just showed us a list. The program uses a minimalist approach: Each item sports a cautionary symbol (with no legend), the registry key location and an error description (obsolete software key or missing MUI reference, for instance). And rather than providing a built-in backup module, Advanced WindowsCare simply offers the option to "correct problems."
One more issue: You'll need to pay attention when you install Advanced WindowsCare's free scanner—unless you clear the check boxes, the fool thing will automatically add the Yahoo Toolbar to your system and make Yahoo your web browser's homepage. Not good.
The program supports Windows 2000, XP, and Vista officially but we had no trouble running it onWindows 10, however we only recommend it to advanced users.
jv16 PowerTools
For $30, you can pick up a copy of jv16 PowerTools (a more-complete sibling to the streamlined RegSupreme Pro listed above). In addition to a registry cleaner and compactor, it has other tools that will tell you all you ever wanted to know about the registry—but you probably wouldn't use most of them. Among the tools are utilities to manage the registry, find and replace entries, monitor registry changes, take a snapshot, and get registry stats. The collection contains other modules, too, including file finders and cleaners, duplicate finders, and an assortment of system management tools, such as a startup manager and a history cleaner. jv16 PowerTools supports every version of Windows and comes with a full-featured, 30-day trial.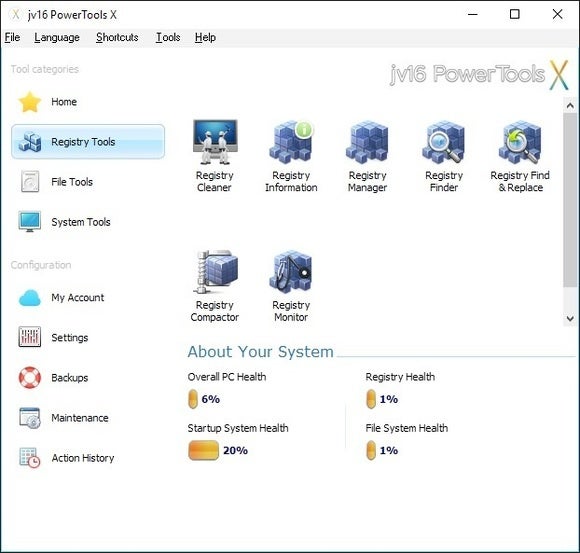 jv16 Power Tools offers several tools for cleaning and managing your system's registry.
In its aggressive mode, the registry cleaner in jv16 PowerTools found 392 registry problems; in its normal mode, it detected 298 problems. The program gave us two ways to fix the problems. The first option was to back up the registry and let jv16 make all the changes it wanted to—a choice we weren't happy with and wouldn't use. On the other hand, when we chose the "Custom fix" alternative, the program forced us to look at each problem one at a time. Other apps, such as Registry First Aid, list all the items and let you select specific entries by checking the boxes beside them, which is much easier. We also wished that the program showed the severity of each problem so as to know which ones were important, but it didn't.
Previous Page 1 2 3 4 5 6 7 8 Next Page