How to clean your Windows registry and speed up your PC
A cluttered registry can slow Windows to a crawl.
One quibble: The tool attempted to find a home in the system tray, unnecessarily adding clutter just so it could regularly check for new versions. We disabled it in the settings.
RegSupreme Pro
RegSupreme Pro, which costs only $20, is a basic, no-frills tool. It includes a registry cleaner as well as a registry compactor along with a few other administrative tools, and is essentially a scaled-down version of its bigger sibling, jv16 PowerTools (see below).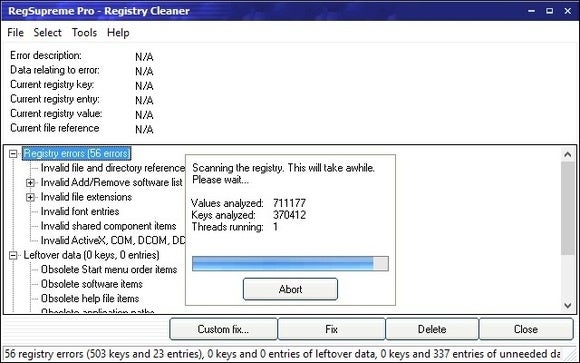 RegSupreme Pro offers an interface that is about as old school as we've ever seen.
In RegSupreme Pro you can set it to scan either quickly or safely, or somewhere in between (you slide a bar along a scale). The program also has almost no extras; the only one of value offers a way to search for specific keywords in the registry (say, "RealPlayer"). Like jv16 PowerTools, RegSupreme Pro supports every version of Windows and comes with a full-featured, 30-day trial. When we tested this software in July 2016 it said it didn't support Windows 10 but the company's website clearly states it supports Windows 10, 8, 7, XP, 2000 in both 32-bit and 64-bit variants.
RegSeeker
RegSeeker is free for personal use and has a handful of other registry-focused utilities. The tools include a keyword finder; a utility to examine installed application registry entries, assorted histories (for instance, browser and Start-menu items), and Startup entries; and a tool to tweak more settings.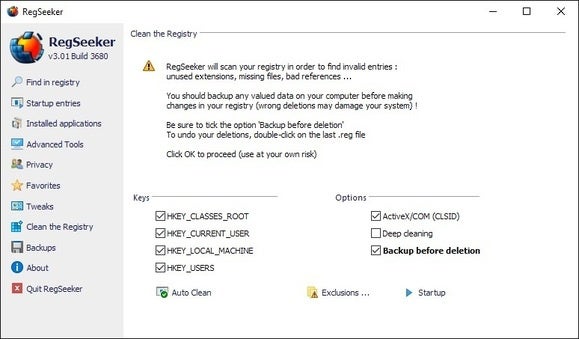 RegSeeker handily makes a backup of your registry files before deleting any of them.
This registry cleaner is confusing because it says "Click OK to proceed" but there's no OK button. On the same screen, the app presents a dangerous option: Auto Clean, which we encourage you to avoid. The screen provides little help or guidance, though RegSeeker warns that to back up the registry you must make sure to check the "Backup before deletion" option, another oddly labeled feature. The program has no automatic restore function, either; you'll need to find the saved .reg file yourself and double-click it to restore your registry; a scary prospect for some.
On our work PC, RegSeeker picked up 1,108 problems. Unfortunately, the program offered no assistance in determining which of the errors needed deleting; it also didn't provide categories, such as invalid path or shared DLL, in order to help us decide whether items were safe to delete. RegSeeker isn't for novices. It supports Windows XP, Vista, 7, 8, and 10.
Advanced WindowsCare Personal
Advanced WindowsCare is a freebie (beware of Yahoo bloatware during the install though) and comes with other tools besides a registry cleaner. For instance, it claims to deter and remove spyware, optimize your PC, manage your Startup items, and remove junk files. We focused only on the tool's registry skills, and didn't try any of those other components.
Previous Page 1 2 3 4 5 6 7 8 Next Page