How to clean your Windows registry and speed up your PC
A cluttered registry can slow Windows to a crawl.
In each of the following reviews, you'll read our curmudgeonly impressions of how the registry cleaners performed. We focused on their ease of use, the number of errors found, and whether they introduced any hazards, such as the lack of automatic backups before making changes.
Some of the tools tested wanted a permanent spot in the system tray, which isn't necessary since they're on-demand scanners. Since we don't need a program running in the background unnecessarily, when a program tried doing it we found the option to disable the setting. And except for Registry First Aid, none of the products would repair faulty entries, but instead just deleted entries that were no longer valid.
Registry First Aid
Registry First Aid is eager to help you fix and tidy your registry—and it does a terrific job, too. You can't do a whole lot with the trial version, but you can get a good sense of what the program is capable of before paying the $28 fee to unlock all of its capabilities. Of all the programs tested here, this one inspired the most confidence, both from a safety perspective and in the way it handled registry problems. The interface is clean and easy to navigate, and the program includes a registry searching tool, a backup and restore tool, the ability to take snapshots of the registry, and a compression tool. Registry First Aid supports all versions of Windows.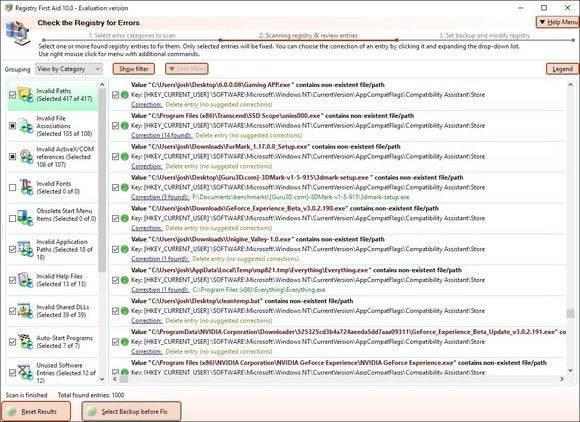 Registry First Aid shows the individual keys that are problematic, which is handy.
Registry First Aid found 2,161 faulty entries in a 20-minute scan, a high number that may be explained by the program's relatively liberal definition of what constitutes a faulty entry. We were comfortable with the way it listed problems, either by category (such as invalid file or DLL, invalid path, or unused software entries) or by safety level. All of the entry issues that were safe to fix were automatically checkmarked, and we liked having to check the ones labeled "Caution" or "Extreme Caution" manually.
Most problems that Registry First Aid found were marked with a resolution named "Delete the entry," but some had other choices. We could cut the invalid substring or, in some cases, repair the entry. Unfortunately, the program's Help function wasn't too helpful, so we opted to use the default setting.
While the program was scanning, we were able to examine each listing, check or uncheck it, or open the specific entry in the registry.
This program also has one great feature that's worth the price of admission: With one click, you can open a web search of the entry in question. It's very cool, and ideal for determining whether a risky entry should be removed, as a lot of scary-sounding entries are actually benign.
Previous Page 1 2 3 4 5 6 7 8 Next Page