How to clean your Windows registry and speed up your PC
A cluttered registry can slow Windows to a crawl.
We tried each tool on three computers: a messy work PC using Windows XP SP3, on a pristine Fujitsu Lifebook T-Series laptop running Vista, and on an old ThinkPad laptop.* We ran the registry scan and repair module of each application, rebooted the system, and watched for problems that would indicate that the "cleaning" process broke something. We also tried to determine whether the system seemed friskier post-cleanse. After each test, we restored the systems to their original state of disarray with Acronis TrueImage. (Read a review of Acronis True Image 2015 and download the demo.)
Before we reveal the results, we offer some important tips to keep in mind before, during, and after your forays into the registry. Being prepared for what's involved and taking the proper precautions are critical to making this a successful undertaking. If you want to skip ahead to the results, you can click the entry for each program in the table of contents on the left.
*All programs were re-tested on a modern, Windows 10 PC to verify compatibility.
Top 10 registry dos (and don'ts)
Messing with the registry—and doing so incorrectly—can destroy Windows and cause you great distress. Seriously. If something goes sideways in the registry you'll be looking at a full reinstallation of your OS; that's how dangerous it is to tinker with it. Here are the top 10 tips to keep your system running, and to keep yourself anxiety-free.
1. Back up your data. The best protection from registry hassles, or any computing disaster, is to have a current backup. As in, you ought to do one now while you're thinking about it. See this article for some guidance.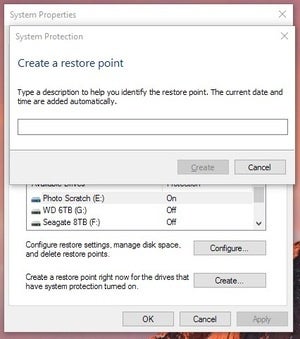 Always create a System Restore Point before you start mucking around with the registry.
2. Back up your registry. Make sure to back up your registry before you open any registry cleaner. This is a bit redundant, since the registry cleaner will back up any changes it makes, but an extra level of security never hurts, and will help greatly if something goes awry. If you're using an older version of Windows such as XP, you can use ERUNT (the Emergency Recovery Utility NT). If you're on Windows 7/8/10 you can just create a System Restore Point to accomplish the same thing.
3. Pay attention. In most programs that guide you with wizards it's no big deal if you don't pay attention and merely keep clicking the Next button. That isn't the case with registry cleaners. Stay alert and read whatever the cleaning tool has to say, especially when it's about to delete files.
Previous Page 1 2 3 4 5 6 7 8 Next Page