How to buy the best productivity-focused Android, iOS, or Windows tablet
Avoid the low-cost throwaways. We'll help you find a quality device with the features you'll need every day.
The best here is Microsoft's Surface tablet family. While an iPad or Android tablet mirrors what's shown on the tablet onto the larger display, the Surface actually extends your desktop. That means you'll end up with two functional displays. Plan on spending about $40 for a miniDisplayPort-to-HDMI adapter used by the Surface family, or, if you're feeling ambitious, a whopping $200 for the Surface Dock, which allows multiple monitors and also has some handy USB ports.
Watch out with other Windows tablets, though: Some of the product descriptions may list the output as HDMI, suggesting that you can use the full-sized cable from your TV. Nope! You'll probably need a micro-HDMI to HDMI cable. (Look closely at the package or a demonstration model to tip you off.)
Among Android tablets, look for one that includes Mobile High Definition Link (MHL) support, which lets it connect to a monitor via an adapter that costs about $10. This can be trickier than it should be: MHL supports both 5-pin and 11-pin connectors, and most manufacturers don't do a good job telling you whether the tablet actually supports MHL, let alone which connector it uses. Android tablets without MHL can also take advantage of the screen-sharing capabilities built into Google's $35 Chromecast, which plugs right into a display's HDMI connector.
If you're buying an iPad, Apple makes it very simple: use the $39 Apple Digital AV Adapter to mirror whatever's on the iPad's screen to an HDMI display.
Here's one display disappointment: Aside from the Surface and its "kickstand," most tablets don't offer a simple way to prop the tablet up on its edge—a real shame!
5. Don't forget the keyboard
You may have noticed a trend here: It's the peripherals that can really make a tablet productive. The same goes for the keyboard. Yes, you could type on the tablet's glass screen itself via an onscreen keyboard, but you'd sacrifice screen real estate, and toggling among keyboard views is a pain.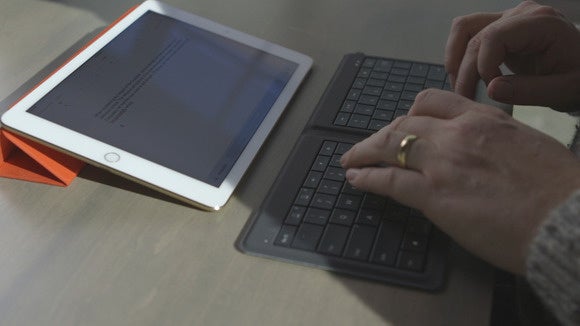 Keep in mind that you'll need to prop the tablet up somehow. Some cases are designed to do just that.
Instead, consider buying a quality Bluetooth keyboard to accompany the tablet—either a standalone model, or one designed to pair specifically with the tablet in question. This is a situation where trying the keyboard for comfort is important, as well as Bluetooth compatibility with your device. Apple now sells its own Smart Keyboard, but many other iPad keyboards are available. For Android tablet, we found five we liked in a roundup of Bluetooth keyboards. We also like the $80 Microsoft Universal Mobile Keyboard.
Previous Page 1 2 3 4 Next Page