How to buy the best productivity-focused Android, iOS, or Windows tablet
Avoid the low-cost throwaways. We'll help you find a quality device with the features you'll need every day.
For Mac users, of course, your safest pick is an iPad, as directly sharing files with Android or Windows 10 tablets can be more challenging. Mixing platforms, the simplest way is to use cloud storage like Box, Google Drive, or OneDrive as an intermediary: Upload files from one device, and then download them from another.
If you already own a PC, you have a few decisions to make: The Android hardware universe will give you more tablet options to choose from, but Android's native productivity apps aren't quite as useful as either iOS or Windows apps.
A Windows tablet offers the most graceful option for diehard PC users. You can buy one of Microsoft's own Surface tablets, and it will immediately drop you into the Windows universe you're already familiar with.
2. Long battery life
No one asks for less battery life. You're going to want a tablet that won't run out of juice in an hour or two.
Newer tablets tend to last longer, in part because the components they use tend to be more power-optimized than their predecessors. In recent video rundown tests, Apple's iPad Air 2 ran for 10 hours, 14 minutes; Microsoft's Surface Pro 4 lasted 8 hours; and Google's Nexus 9 Android tablet pushed past 11 hours.
Note that the Surface Pro 4 requires a PC-style charger that must be plugged into the wall. A Micro-USB port powers the smaller Surface Pro 3 and virtually all Android phones, allowing them to be charged by most portable battery chargers while on the go. Ditto for the iPad, although it uses a Lightning connector.
3. Light, but with a big screen
The whole point of buying a tablet is to avoid lugging around a heavy laptop. This part is easy: Most tablets weigh just about a pound or two. But a productivity tablet should be equally at home on the desk as well as on a couch.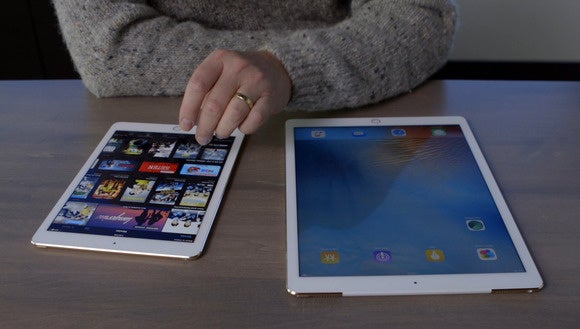 Either an iPad or the mammoth iPad Pro are good choices for Mac users.
A tablet with a largish screen, about 9 to 11 inches in diagonal width, will work best for most people. Also look for one that's easy on the eyes. If you can see the individual pixels, forget it—you'll end up with a headache from prolonged use.
4. Broaden your tablet's horizons with external display output
While it's great to buy a tablet that you can stare at for long periods of time, let's face it: You can do more if you connect it to a larger display, or even more than one. The simplest solution is to buy an adapter connecting the tablet to the common HDMI interface used by most monitors and TVs.
Previous Page 1 2 3 4 Next Page