How the Smart Connector could be key to an iPhone Pro
As each iPhone gets more powerful, Apple could turn the iPhone Plus into an iPhone Pro by adding one little port, a good dock, and a whole new world of expansion possibilities.
Going Pro
Along with cases, the positioning of the connector naturally lends itself to comfortable placement in a dock. While a series of kits might expand the functionality of the iPhone, a dock could allow Apple to use the Smart Connector to change the perception of the iPhone, much like it did with the iPad Pro. Assuming it's part of a rebranding of the 5.5-inch model from Plus to Pro, it offers an opportunity to pivot from a powerful handset to a small next-generation mobile computer.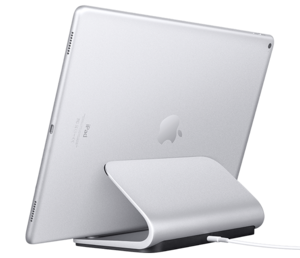 Slap the iPad Pro in a sturdy charging dock, grab any handy Bluetooth keyboard...kinda works like a computer. The iPhone Pro could do this too.Credit: Logitech
Despite a proliferation of third-party charging stands, Apple only offers a single, bare-bones iPhone Lightning Dock for $49, and it took Logitech to create the Logi Base, an iPad Pro dock that uses the Smart Connector for charging. But with the iPad Pro, a keyboard makes the most sense, and while I'm quite sure Logitech is already prototyping an ultra-portable Smart Keyboard for the iPhone, I think Apple's plans are bigger than typing.
A Smart Dock could expand the iPhone's capability in ways that just aren't possible now. For example, a speaker dock could make the Hey Siri function rival the usefulness of Amazon's Echo. An audio dock could turn your iPhone into a Sonos-like sound system. And an Apple Watch-style magnetic inductive charging dock would take a little bit of friction out of having to charge your iPhone every night.
But the most intriguing potential for a Smart Dock is on the desktop. Apple's Pro devices are all linked by their ability to let you work faster and more efficiently, and a desktop charging dock that expands the iPhone to a larger screen or offers the ability to connect a hard drive would be a real game-changer for the iPhone, expanding it far beyond its current capabilities.
On the iPad Pro, the Smart Connector might be little more than an easy way to connect a keyboard, but its potential is far greater. It could be the thing that turns the iPhone from smart to genius.