How the iPhone begat shadow IT and enterprise mobility
While Apple hasn't missed the enterprise boat, its success is due largely to the popularity of the iPhone.
But with the launch of the Apple App store, many popular apps, including email, expense forms, file sharing and cloud storage -- as well as specific healthcare and financial apps -- were all at an employee's fingertips.
"I think the iPhone is a once-in-a-generation kind of product. It defined the product category and the technology..., touch screens, advanced multitouch operating systems, that sort of thing," Hockmuth said. "What really drove Apple and BYOD were the apps, because Blackberries were great devices. They were secure and had some great apps... But the iPhone App Store and subsequently the Android [Google] Play store, broadened the horizon of what a business thought of as mobile productivity."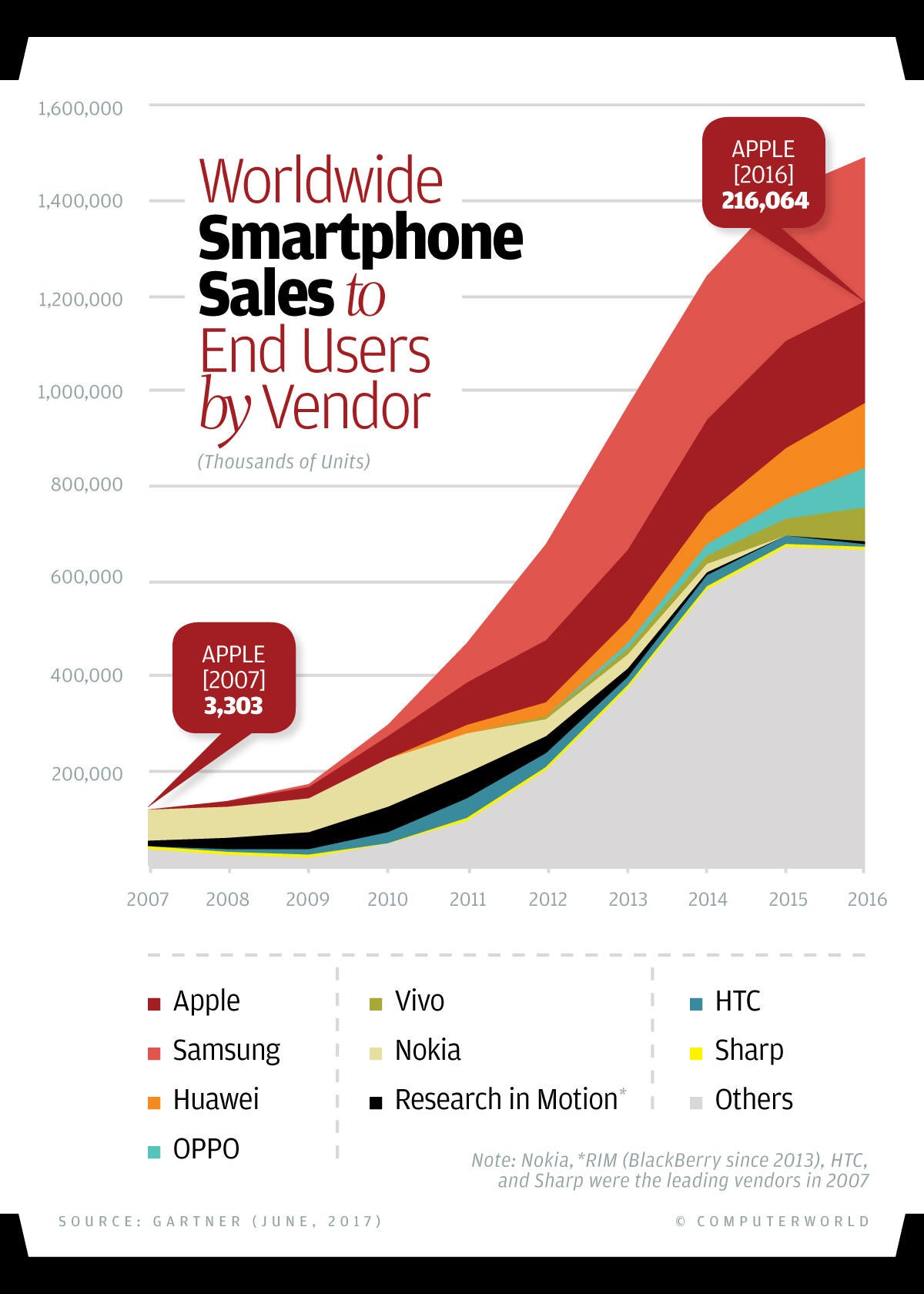 Credit: Computerworld / IDG
Apple's enterprise entrance: organic, not intentional
The iPhone became so popular, Silva argued, because its features, functions and apps were aimed at the end-user, not at a line of business. Addressing business issues simply wasn't Apple's focus.
For years, even Apple's brick-and-mortar retail chains lacked staff who could demonstrate hardware applicability in the workplace for users, Silva noted.
While the iPhone's enterprise functionality became more formalized as device management features -- app provisioning and user permissions limits -- became codified in iOS 6, Apple did not rush to add enterprise features, Silva said.
"Enterprise has long been Apple's, 'OK, we'll solve that when we get to it,'" Silva said. "Everything from the licensing of apps to the ability to do MDM..., they got there, but it wasn't a core focus."
While it may have taken years, the iPhone has now essentially become the new Blackberry, Hochmuth argued.
Today, Apple's iOS claims 48% of all corporate-issued smartphones or phablets, compared to 37% for Android and 11% for Windows Moble OS, according to Gartner. And it claims 59% of tablets, largely because of the wildly popular iPad.
But the competition is closing in quickly. While Android may have been a late arrival, it's more focused on enterprise applications than at any time in the past.
"I could see Android gaining share in terms of corporate-liable tech devises," Hochmuth said. "Android [hardware manufacturers] and Google are focusing more on the enterprise than ever before. Even Apple just started recently looking at the enterprise as a target market.
"They've always been in the enterprise, but that was not by any intent of Apple."
Google, of late, has made workplace encroachment a top priority.
"Google is focusing more on the enterprise now. They're starting to expand security capabilities. They're starting to have more [manufacturing] partnerships around B2B," Hochmuth said. "I could see Android becoming more predominant in businesses over time as they change the image of the OS."
Previous Page 1 2 3 4 5 6 Next Page