How the iPhone begat shadow IT and enterprise mobility
While Apple hasn't missed the enterprise boat, its success is due largely to the popularity of the iPhone.
Ten years ago today, the first iPhone arrived, sporting an all-new user interface built on a multi-touch screen and a virtual keyboard that soon replaced all that had come before for mobile devices.
Combined with internet access and, later, an online app store that offered enterprise applications, the iPhone allowed workers to treat their cell phone as a more convenient, portable computer. It also meant that companies had to figure out -- quickly -- how to manage all those new iPhones.
Steve Palmucci remembers suddenly seeing new iPhones show up at work, and he immediately worried about its lack of security and business capabilities. Nevertheless, employees seemed to love them, and made it clear they wanted to use them for work.
"Compared to the Blackberry, which at the time was the standard for secure mobile access to enterprise data, the iPhone introduced risk," said Palmucci, who at the time was senior director of IT at Sungard Availability Services. "It was also limited initially to release on AT&T as the carrier in the US."
Now CIO at TiVo Corp., Palmucci recalls how quickly the iPhone became popular among co-workers. "It wasn't driven by apps that had enterprise value at the time," he said. "...They loved the design, the interface,and the allure of the Apple brand."
And he remembers the aftermath of its arrival: "When the iPhone was first released in the U.S. in 2007, there was a significant impact on enterprise IT because this was the real beginning of the consumerization of IT."
Before then, workers had been doing things like bringing personal routers into the office so they could connect smartphones or tablets to the corporate network. But their numbers were comparatively small; it was the iPhone that kicked "shadow IT," where employees took technology into their own hands, into high gear.
"I don't know that there was a real shadow IT movement prior to the iPhone," said Chris Silva, a Gartner research director. "The iPhone was definitely shadow IT 1.0. Everyone was taken by surprise."
IT shops stayed busy trying to make sure employees weren't circumventing corporate email by forwarding messages to their personal mail accounts so they could use them on their iPhones.
Before 2007, it wasn't unusual for some to bring in their own cell phone for work-related tasks or to rely on a corporate-issued Blackberry. The iPhone phenomenon up-ended years of mobile management practices, according to Phil Hochmuth, IDC's program director for enterprise mobility analysis.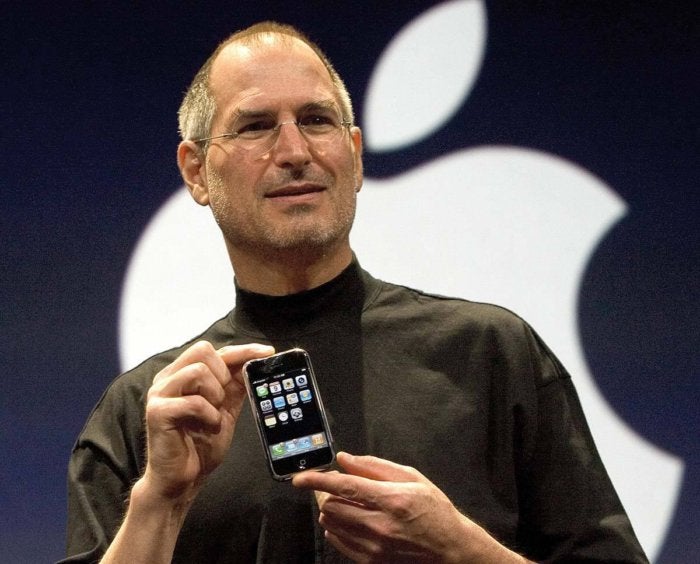 Credit: Apple
Along with its revolutionary touch interface, the iPhone carried with it Apple's reputation for having a more secure platform, which helped with its adoption as the No. 1 mobile device in corporate America. "It's not necessarily true that the iPhone is more secure than Android, it's just a perception in the market," Hochmuth said.