How a Facebook phone can conquer the world
Nearly every mobile device you can name can access Facebook. So if the social media giant is going to come out with its own phone, it had better have some impressive features.
Ad-Free for you and me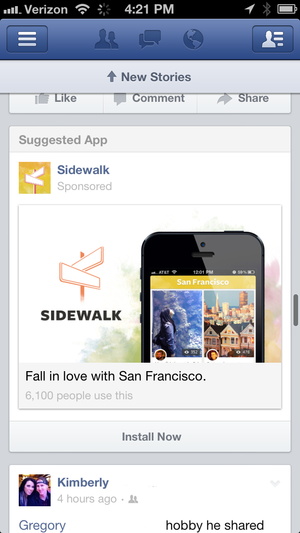 Keep your ads out of my newsfeed Facebook!
More than the constant interface changes, people really hate the intrusive nature of Facebook ads. You'll be browsing your newsfeed, silently judging your "friends," when all of a sudden an ad for some lame poker game assaults your senses (and your intelligence). This is particularly problematic on the Facebook app, where it seems like every other post on your newsfeed is an invite to download a Words With Friends rip-off or someone trying to sell you 12 pounds of bacon. It's hard to fault Facebook for trying to make money, and we can somewhat forgive its aggressive marketing tactics on a desktop. But unless all those ads are somehow going to make the Facebook phone more affordable they should probably be kept as far away from the handset as possible. Speaking of which....
Priced to move
It's getting harder and harder to convince people to drop several hundred dollars on a new smartphone, especially one that doesn't have the word "Galaxy" in its name. Even Nokia's top-of-the-line Lumia 920 was priced for considerably less than its competitors when it was first released here in the States. The previous "Facebook phone," the HTC Status, launched on AT&T to the tune of $50 on contract-but that budget friendly price-tag was not enough to distract people from the phone's various shortcomings.
The rumored specs of the Facebook phone paint a picture of a largely unimpressive handset, but a sub-$100 price point would make it easier to look past the device's flaws and would also make the phone more appealing to people buying a smartphone on a budget.
Multiple carriers
One of the biggest traps phone makers fall into when launching a new product is limiting it to certain regions or carriers. Phones available on a single carrier don't tend to do as well as ones released on multiple carriers. (And yes, I recognize the iPhone is a very big exception to that rule.) People don't tend to pick their wireless carrier based on what phones are available, but rather on who has the best prices and coverage in their area.
For the Facebook phone to sell well, the company needs to adopt Samsung's carpet-bombing strategy and launch the phone on as many carriers as it can. By making the phone widely available, Facebook ups the chances of getting the phone into the hands of as many people as possible. Combine that with an attractive price, and you have a phone that stands a chance against the unending horde of iOS, Android, and Windows phones.