Honor 5X review: A great example of how to cut cost without cutting corners
Huawei's Millennial phone packs all the essentials: long battery life, capable camera, premium body, and lots of slots!
A cheap camera that's very capable

The Honor 5X's camera interface is a cinch to use.
If you want evidence of the Honor 5X's appeal to millennials, look no further than its camera application. It offers live filters for the viewfinder right off the bat, as well as two camera modes, including Beauty, which takes "beautified" shots of your friends, and Good food, which takes macro shots of food like this:

The veggie po' boy looks pretty dang tasty with the Good Food mode turned on.
The Honor 5X's camera app interface is a cinch to figure out and it offers quite a few features, including a Time Lapse mode, Panorama, HDR, Watermark, and slow motion capture. There's even a setting to control the audio in video mode. However, I do think Huawei is trying too hard with cutesy modes like "Good food." Just call it Macro mode.

A few test shots taken with the Honor 5X.
The Honor 5X is equipped with a 13-megapixel rear-facing Sony IMX214 camera sensor. It does not offer optical image stabilization, so most photos come out a tiny bit blurry if you're not perfectly still. It also offers a f/2.0 aperture and works okay in darker environments. Its low-light performance is about on par with the OnePlus X, which has similar specs. My favorite part of the 5X is that there's an option to leave the flash on and take a photo with the subject all lighted up. There's also a feature that lets you take the "perfect selfie," which works wonders and makes me wish I was five years younger.
A drastically different take on Android
We need to talk about the "other" versions of Android. In Huawei's case, the EMUI 3.0 built on top of Android 5.1.1 is both difficult to pronounce and confusing to use. I don't deny that it's more attractive than both Samsung and LG's versions of Android, but it doesn't offer an application drawer, and that's a glaring omission in my book.

Look, Ma! No drawer! Just lots and lots of folders.
Any application you download will end up living on the Home screen, which is just awful. I left iOS precisely because I didn't want to deal with a bunch of seldom-used applications clogging up the screen. You can regain access to that drawer by downloading the Google Now Launcher, but by default you're stuck putting icons into carefully-labelled folders.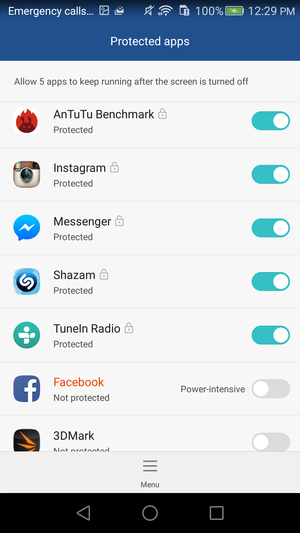 I do appreciate that EMUI allows me to set which apps can run after the screen is turned off, which can help save both data and battery life in the long run.
Previous Page 1 2 3 4 Next Page