Honor 5X review: A great example of how to cut cost without cutting corners
Huawei's Millennial phone packs all the essentials: long battery life, capable camera, premium body, and lots of slots!

The Honor 5X has a pretty capable 1080p screen. But you can tell it's just a little on the cheap side. Credit: Florence Ion
The Honor 5X's 5.5-inch 1080 IPS screen is also where you start to see the difference in build quality compared to a more costly device. There's nothing inherently wrong with the 5X's display, but its viewing angles are not as clear as a phone that costs three times as much. I also noticed a ghosting effect when I glanced at it from the side.
Performance that could wane over time
You don't expect stellar performance from a phone this cheap, but the Honor 5X's 1.5GHz Snapdragon 615 processor is good enough. Loading applications and games was typically a cakewalk, though I did deal with the occasional sluggish interface. I was pleased to see that the 5X could also handle some of the heavier millennial-geared applications like Ditty, a silly little app that lets you make your own music videos, and Rayman Adventures. My only issue while using the 5X is that it gets scalding after you've had the screen on for a while. Ow.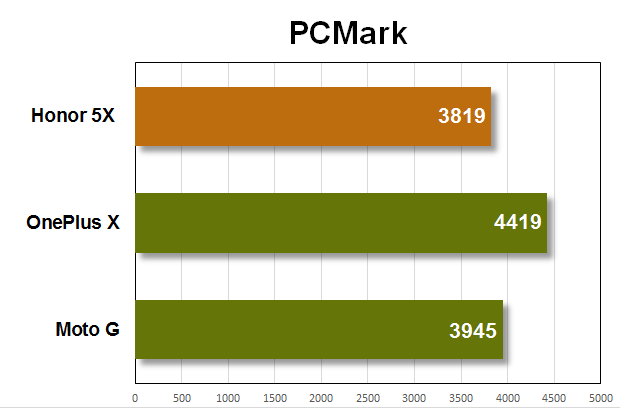 In tests like PCMark, which gauges a phones performance while browsing the web or editing photos, the Honor 5X performed on par with others in its class, like the Moto G. (Click to expand).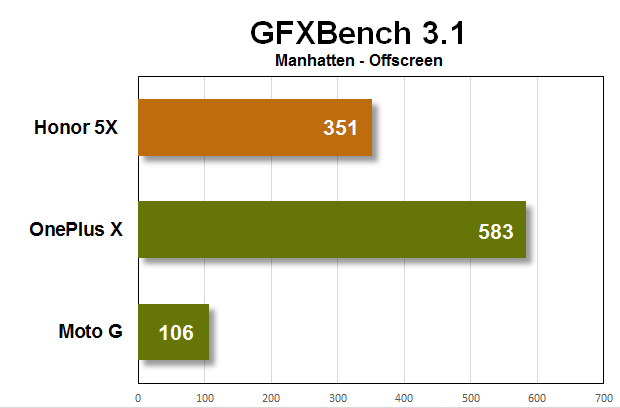 In 3DMark, the Honor 5X was less successful, and even trailed behind devices like the OnePlus X. (Click to expand).
Our benchmark tests told a slightly different tale. The Honor 5X scored well with apps that test general smartphone performance, like PCMark, but seemed to suffer when more processor-intensive applications came to play, like its graphics-measuring counterpart, 3DMark. It also constantly fell behind similarly-stacked devices, like the One A9, and even the OnePlus X, with its generation-old processor, managed to outrun it.
Enough juice to Snapchat for an entire day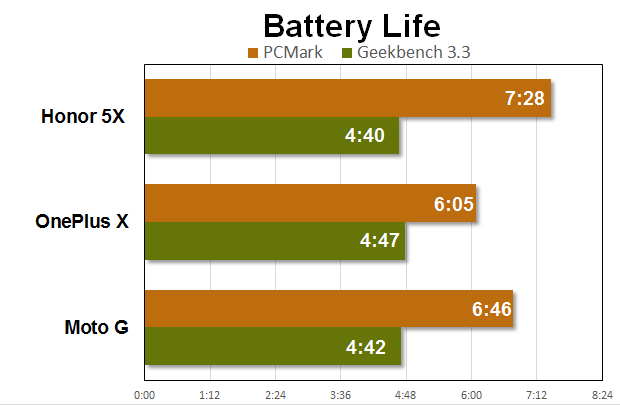 The Honor 5X's 3000 mAh battery pack outlasted most of the competitors in its class, including the OnePlus X and Moto G. (Click to expand).
There's nothing worse for a young millennial than when their primary medium of keeping in touch with friends is out of order. That's probably not going to be much of an issue with the Honor 5X, though, because it boasts some pretty impressive battery life. Its 3,000mAh battery lasted 7 hours and 28 minutes in the PCMark battery rundown test, and 4 hours and 40 minutes in GeekBench's. Overnight, it only used up about 10 percent of its juice, and even then it'll pop up with an alert to tell you of any apps that are running rampant in the background. Since the 5X isn't exactly a powerhouse, it's not constantly burning through a ton of energy, and that will bode well for both kids and adults who just can't seem to put the phone away.
Previous Page 1 2 3 4 Next Page