Hands on: Yes, Windows Phone fans, the Lumia 950XL is your long-awaited flagship
Maybe, just maybe, Microsoft could pull this off.
The new phones also include a version of Windows Hello, which uses an iris reader to identify you. I wasn't able to unlock the phone (the phones were locked to the demo personnel) or test any of the phone's connected features. I was able to try out the iris reader for myself, however. It shines a low-power red light into your eye. You need to stick your eye close to it, so it can read it. It didn't seem especially painful when I tried it, though I can't vouch for its accuracy, obviously.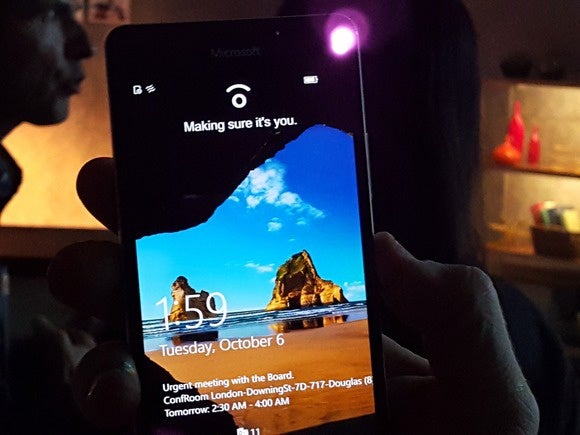 The Lumia 950XL and its red iris reader can log you in using Windows Hello. Credit: Mark Hachman
A week or so ago, I advised a coworker who was curious about Windows phones to look elsewhere, to Android. He bought the latest Note 5. I'm sure he doesn't regret his purchase. I will say, though, that he may have jumped the gun. If you're a Windows phone fan, don't make the same mistake.
We need to acknowledge a few harsh realities: the lack of apps (though Facebook did join the universal app party Tuesday), and no word on which carriers are going to sell these phones, although we do know they'll be priced at $649 and $549 for the 950XL and 950, respectively. Perhaps Microsoft will simply sell them unlocked, direct from its online and physical stores, and call it a victory for the consumer.
What we saw today were Windows phones we could get excited about. We'll have more to say once we can do a full review of the hardware, and after that, the people will render their final verdict.
I'll admit I'm pessimistic—the faint, bright light of these flagships could be extinguished in a year. At least Microsoft will go out fighting, and that's great to see.
This story included copy previously written by Jared Newman.