Hands on with the new Razer Blade, a gaming Ultrabook thinner than a Macbook Air
Razer takes aim at the ultraportable market with the new Razer Blade, a 14-inch gaming laptop that's thinner and lighter than the Macbook Air.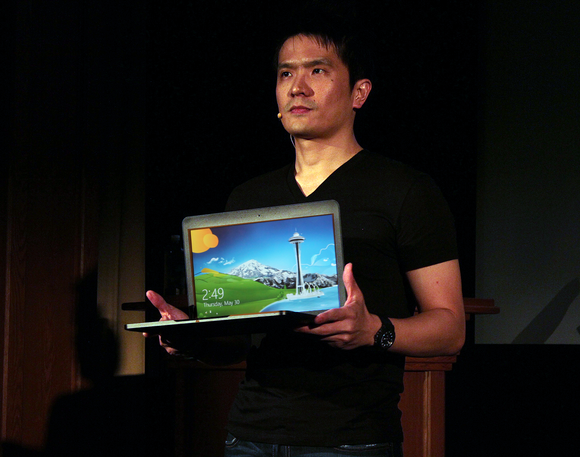 Razer's latest Ultrabook is a wake-up call. It's a warning shot across the bows of Apple, Samsung and other manufacturers of premium thin-and-light laptops. And its message is clear: "Look at me."
Look at how a gaming laptop that's thinner, lighter and more powerful than a Macbook Air can be built and marketed to consumers. The new Razer Blade is a piece of premium hardware with an equally premium price tag. And it's also an expensive wager that people will pay $1,800 or more for a Windows 8 Ultrabook designed explicitly for PC gaming-all while the PC market is hemorrhaging money.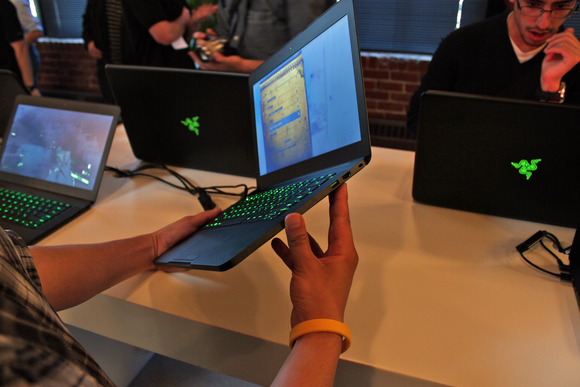 The Razer Blade is the thinnest, lightest gaming laptop we've ever seen.
That's right, the new Razer Blade laptop, announced at a special Thursday press event in San Francisco, is no longer the 17-inch behemoth we once knew and (mostly) loved. That old model has been renamed the Razer Blade Pro to make room for the new Razer Blade, a 14-inch gaming machine with 8GB of RAM, an upgradeable 128 GB SSD, a discrete Nvidia GTX 765M GPU and a "fourth-generation" (read: Haswell) Intel CPU packed into an aluminum body that's barely two-thirds of an inch thick.
The whole package weighs in at just over four pounds and sports the sort of connectivity options you'd expect from a contemporary ultraportable, including three USB 3.0 ports, an HDMI out, an 802.11 wireless adapter, and a Bluetooth 4.0 radio. The Blade will be available for pre-order on June 3rd, and while the price starts at $1,800, you can expect to pay more for models with a bigger hard drive.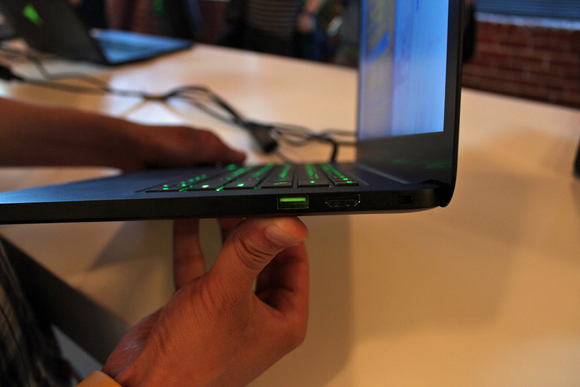 The new Razer Blade is very, very thin. Our hand model wants you to know that the bottom can also get very, very hot.
Razer says this new and improved Blade is the world's thinnest, most powerful gaming laptop, and while I'm going to steer clear of vouching for the unit's performance until we get one into our lab for thorough testing, I'm happy to report the Blade demo units we tinkered with during Razer's Thursday event were incredibly thin, remarkably light, and scorchingly fast.
The new Blade feels like a MacBook Air without the sharp edges, though its sleek, matte black aluminum case feels a little flimsier than the MacBook Air's aluminum unibody. The power adapter looks equally sleek in promo shots, and I poked around underneath our demo station to verify that, yes, the new Blade power brick is just as tiny as the adapters that power the old Razer Blade and the Razer Edge.