Hands-on with Pokémon Go: Catch 'em all by exploring the real world
It's like digital geocaching with a Nintendo sheen—which yes, really is quite cool.
Keeping my iPhone open to play is a bit cumbersome, needing to dart my eyes between the screen and my very real and potentially dangerous surroundings, and it invites strange looks from bystanders. On a Pokémon hunt with my three-year-old son, I noticed a couple looking at us very curiously as we tried to hurl digital Poké Balls at a Zubat.
My kid is a bit too young to fully grasp the Pokémon Go experience; he continually looks behind the phone when I show him a Pokémon in the game, and keeps asking me if Pikachu is walking down the sidewalk. But Pokémon Go seems like it will be an especially big hit with slightly older kids and teens that have loads of time to go exploring with this digital guidebook. Niantic's games and apps have that specific charm to them, immersing you in the virtual while ultimately exposing you to more of your surroundings, and it's a big hook here.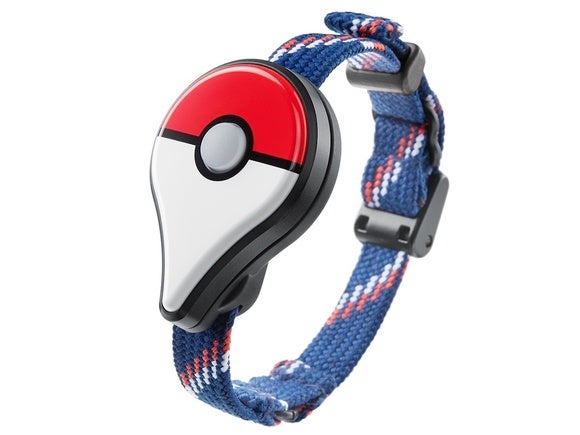 Pokémon Go Plus: worth the $35 to stay connected even without your phone?
And serious Pokémon Masters have another option: The Pokémon Go Plus wearable device, which will also be available next month. The small Bluetooth-connected emblem, which looks like a GPS teardrop merged with a Poké Ball, can be worn around your wrist or clipped to clothing. When walking around without your phone (or with the app closed), you'll be able to catch Pokémon and collect items just by tapping the button when in range, which helps you make progress without really paying attention. At $35, however, it's a premium add-on.
I imagine most people will simply opt to enjoy the free-to-play game as-is when it gets released next month on iOS and Android, although I'm looking forward to testing it with and without the Plus gadget for a follow-up article. For now, Pokémon Go seems pretty promising: It's a colorful and fun representation of the Pokémon universe that transforms its core conceit into something new, social, and even physical. So long as in-app purchases don't sour the competitive balance with gyms, it should be a great on-the-go experience for fans old and new.
Previous Page 1 2 3