Hands-on with Pokémon Go: Catch 'em all by exploring the real world
It's like digital geocaching with a Nintendo sheen—which yes, really is quite cool.
It's coming right for you!
Filling up your Pokédex isn't the only thing to do in the world, however: there are loads of little real-world stops worth visiting. For example, in my Chicago neighborhood, I can walk a couple blocks and visit in-game stops at a nearby mural, a church statue, or a local movie theater. And when you get close to each, you can spin the photo emblem to unlock free items, including Poké Balls and power-ups. That incentivizes your wandering and makes it worthwhile to take a walk to stock up.
And then there are the gyms. Inspired by the boss locales from the handheld quests, these hotspots on the map are where you'll find actual combat as your Pokémon battles it out against the Pokémon of the current leader. Much like a mayorship in Foursquare, you'll want to try and claim as many of these as possible for bragging rights—although you may need to put some serious time into the game if you want to have a shot against die-hard players.
My Pokémon were crushed by a high-level gym leader's monster on my first attempt; clearly someone who has been playing the beta for months. But then I found a nearby gym at a closed comic book shop down the street and handily won two battles in a row, wresting control away from the red team. Now my Squirtle will patrol that spot and try to fend off any new challengers that try to steal the throne from me and team blue.
Catching on?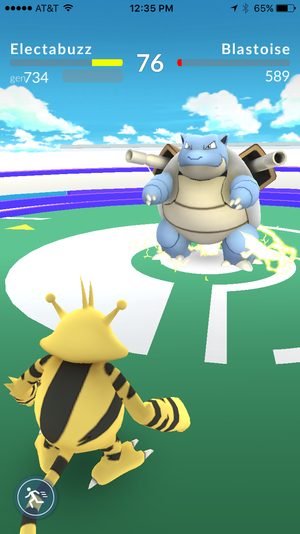 Battle it out for control of your nearby gyms.
Without a storyline or traditional campaign progression, Pokémon Go can feel a little sparse compared to the classic games—especially if you're trying to play inside your home. There's little you can do from a stationary position, unless your house or apartment is mere feet away from an in-game gym, so it's not the kind of game you'll spend hours playing at a time. Well, at least not in one position.
That said, so far it's a very cool riff on the classic Pokémon theme, and it makes a lot of sense for a GPS-connected device. It feels like you're geocaching, only without the aimless wandering and search for clues: Whether or not you'll encounter Pokémon is the only real question, as well as whether the ones you find are the ones you really want. It's unclear whether you'll be able to get a large number of the entire roster in your city or state; so far, I've seen a lot of the same Pokémon wandering my area, although catching multiples does let you evolve your Pokémon.