Hands-on with Pokémon Go: Catch 'em all by exploring the real world
It's like digital geocaching with a Nintendo sheen—which yes, really is quite cool.
Pokémon and its "Gotta catch 'em all" mantra have enraptured fans on Nintendo's handheld systems for 20 years now, but only match-three puzzle and collectible card game spinoffs have made their way to iOS devices. While the next big Pokémon game for iPhone isn't exactly a translation of the classic monster-battling adventure, it might be an even better fit for a connected device you keep in your pocket all day.
Due out in July, Pokémon Go hails from Niantic Labs, the formerly Google-owned company that designed the location-based mobile favorite, Ingress. Unsurprisingly, the two games draw from the same playbook in many ways. Like Ingress, Pokémon Go is designed to send you out and about into the real world around you, visiting nearby locations and perhaps venturing wider out in search of digital Pokémon to collect and battle.
It maintains the spirit of the series while taking on a distinct new form, and after playing the beta version for the last few days, I'm convinced Pokémon Go will be a new kind of on-the-go obsession for the Poké-faithful—so long as you're not expecting a game you can binge-play on the couch.
Get up and Go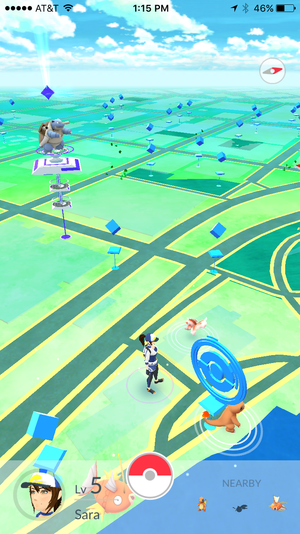 It's your city, albeit reborn as a Pokémon world and littered with the creatures and other hotspots.
Fire up Pokémon Go for the first time and you're asked to lightly customize your own avatar, which has a more realistic build than the anime-esque heroes of the main games and previous adaptations. That shift doesn't apply to the Pokémon themselves, however, as the 500 featured monsters all have that same charming, cartoonish look as in other Pokémon media.
And they're everywhere—all around your city, really. Pokémon Go pops your character atop a Google Maps-style grid of your surroundings, where your streets and avenues become paths to follow in the Pokémon universe. If you don't see any of the creatures in your immediate vicinity, start walking in any direction. Before long, a Pidgey, Snorlax, Weedle, or something else entirely should pop into view, sending a vibration to your phone if the app is open.
Once the creature is engaged, Pokémon Go pulls a delightful augmented reality trick and puts a 3D model of the monster into your real-life surroundings, thanks to your iPhone's back camera. As you point your phone its way, you'll need to fling Poké Balls to try and capture the Pokémon, although a direct hit isn't a guaranteed get: sometimes the monster will fight its way out. More powerful balls are also available, albeit in limited supplies.