Hands-on with Nvidia's Shield tablet: A slick experience, on the small and big screen
Nvidia announced its 8-inch, Android-based Shield tablet Tuesday, with a price tag starting at US$299.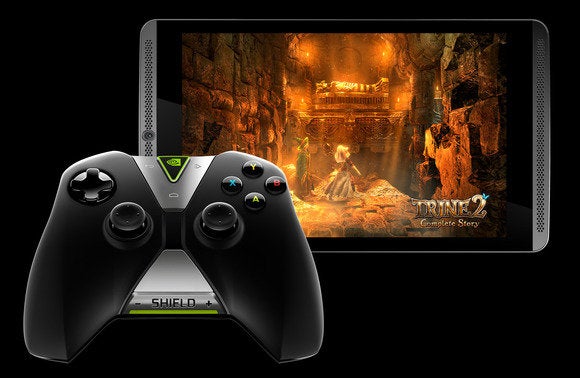 Notebooks optimized for hardcore gaming have competed with desktop PCs for years. Now Nvidia promises to takes gaming to the next logical step: the tablet.
Nvidia announced its 8-inch, Android-based Shield tablet Tuesday, with a price tag starting at $299. The Shield will ship July 29 in the United States and Canada, with availability in Europe and Asia planned for later this year.
An "optional" $59 wireless controller is really a necessity if you're using the tablet for gaming. Most buyers will want the $39 cover that also serves as a kickstand, too. (Nvidia's existing handheld gaming device, the $300 Shield has been renamed the Shield Portable.)
Nvidia isn't the first company to offer a gaming tablet. Last year's Razer Edge Pro was essentially a Surface Pro with joysticks attached. What sets Nvidia's effort apart is its potential for both entertainment and productivity. You can use the tablet to play both conventional Android games and PC games streamed from the cloud or from a PC on the same network.
Support for streaming services such as Netflix and Hulu lets you stream video to the Shield's display, or to a bigger screen plugged into its HDMI port. An included passive stylus and handwriting and voice recognition cover the productivity angle. There's really an enormous amount of technology in this little device.
"We really think this is a perfect device for gamers," said Matt Wuebbling, the general manager for the Shield tablet. "A really high cross-section of people have tablets and want a tablet for gaming."
A showcase for Nvidia hardware
Not surprisingly, Nvidia built the Shield tablet as a showcase for its quad-core, 2.2GHz Tegra K1 mobile processor, which pairs four ARM A15 CPU cores with 192 Kepler-class GPU cores. Nvidia claims the K1 is more powerful than the CPU inside Microsoft's Xbox 360. Nvidia demonstrated the Tegra K1 running Unreal Engine 4 at CES last January, and Wuebbling demoed the same on the Shield tablet for us last week.
The Shield's 8-inch IPS display delivers native resolution of 1900x1200 pixels. It scales its video output to 1080p when output through a mini-HDMI 1.4b port to an HDTV (eliminating the black borders that would result otherwise), turning the tablet into something of a gaming console. It will also support a 4K display, though at a maximum refresh rate of only 30Hz (due the limited bandwidth available with HDMI 1.4b). Wuebbling said the tablet is one of the few mobile devices to qualify for streaming Netflix HD.
The Shield will be available in two configurations: There's a $299 base model with 2x2 MIMO 802.11a/b/g/n Wi-Fi and 16GB of built-in flash storage; or a $399 model with Wi-Fi, 32GB of storage, and LTE connectivity on either the AT&T or T-Mobile network. The LTE model will be available about six weeks after the Wi-Fi model. Both have 5-megapixel cameras front and back, and both are expandable via microSD, accepting up to 128GB cards.