Hands-on with HP's Spectre 13.3, the world's thinnest laptop
The Spectre 13.3 sports crazy cabinet hinges and a new logo, and it's thinner than an iPad Pro.
The rest of the system specs include 8GB of RAM and up to a 512GB M.2 PCIe SSD drive.
Ports and keyboard
Port-side, HP integrates no fewer than three USB Type C ports. Two support Thunderbolt 3.0 and USB 3.1 10Gbps, while the last is USB data at what I suspect is 5Gbps. All three ports support DisplayPort and charging via USB Power Delivery. HP officials didn't say whether the Spectre would support third-party chargers, but I suspect it won't. HP has been hyper-conservative about letting other company's USB-C chargers play on its laptops.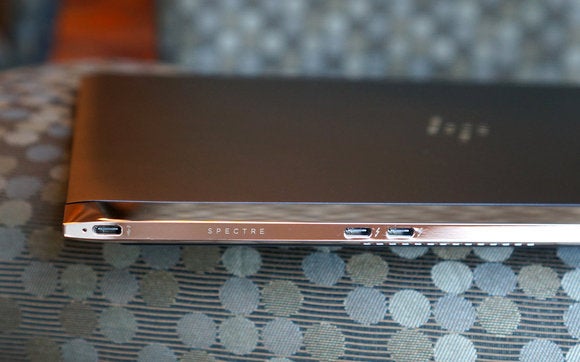 The rear portion of the HP Spectre 13.3 is hand-polished and gold. Credit: Gordon Mah Ung
HP says the keyboard on the Spectre 13.3 offers 1.3mm of travel, which is pretty typical of a thin computer. Both the Dell XPS 13 and Microsoft Surface Pro 3 also make that claim. To my fingers, it's certainly better than the atrocious lack of travel on the Apple MacBook 12. The Spectre's trackpad is a standard piano-hinge, click-type unit with a glass surface.
Battery life
When companies make ultralight or ultrathin laptops, the first thing that usually goes overboard is battery life, as a sure way to reduce bulk. HP says it didn't want to compromise, so it used batteries of various thicknesses joined together to form a 38-watt-hour "fuel tank" for the Spectre 13.3. One that's capable of 9.5 hours of movie playback or 9.5 hours of Office tasks.
Apple uses a similar approach with its MacBook 12, but it goes one step further. Its battery contours and terraces stuff a 39-watt-hour unit into the smaller-but-thicker MacBook 12.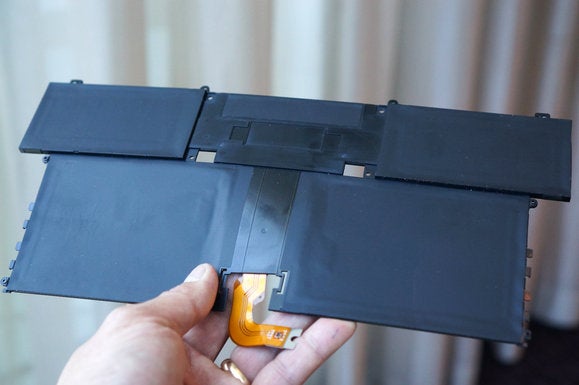 HP's new Spectre 13.3 uses a terraced battery design to increase battery life. Credit: Gordon Mah Ung
All that and a new logo
Another distinct feature of this laptop is the presence of HP's new logo, which is being rolled out with the Spectre lineup.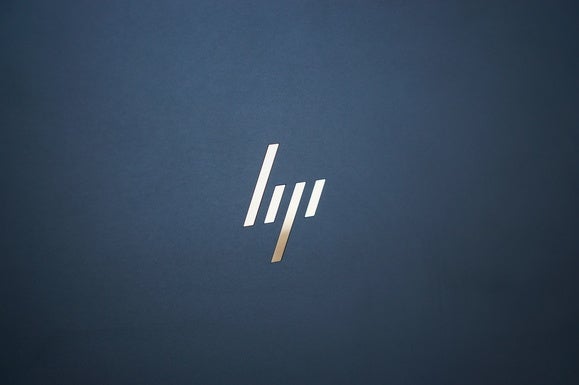 HP's new logo will be used only on the Spectre. Credit: Gordon Mah Ung
If you're wondering why the company doesn't put "Hewlett-Packard" on its laptops anymore, it's because it can't. After the company split in two, the PC maker is only allowed to use the HP initials. And with the new logo, those initials are barely recognizable.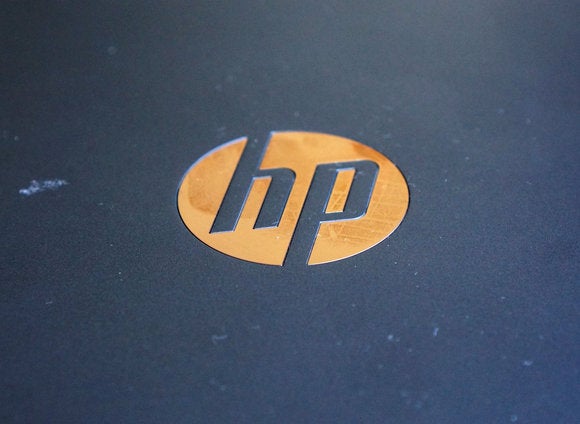 The prototype Spectre we first saw bore HP's old logo, now replaced by a new, spiffy insignia. Credit: Gordon Mah Ung