Hands-on with HP's Spectre 13.3, the world's thinnest laptop
The Spectre 13.3 sports crazy cabinet hinges and a new logo, and it's thinner than an iPad Pro.
Someone call Guinness! HP's new luxurious Spectre 13.3 ultraportable could now be the thinnest laptop in the world.
The new Spectre 13.3, with its fancy cabinet-style, piston-driven hinges, and hand-polished gold trim, is just 10.4mm thick, HP says. To put that into perspective, I compared the Spectre's z-height against various other notably svelte laptops and tablet-with-keyboard combos, and the Spectre is thinner-er than them all.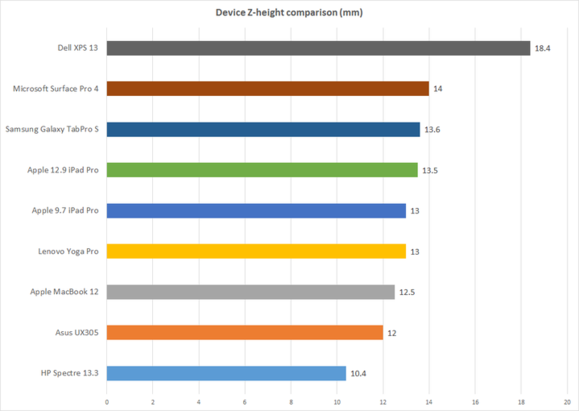 Our comparison chart of laptops and tablet/keyboard combos shows the HP Spectre 13.3 to be the thinnest of the thin. Click on image to enlarge.
A 'hyperbaric chamber'
Even more impressive is the caliber of hardware HP packs into that uncommonly thin chassis. Keeping with the Spectre 13.3's upscale exterior, HP goes with Intel's Core i5 and Core i7 options rather than the Core m series. Of course, while Core m runs less powerfully, it also runs cooler.
To keep the Core i5/ i7 from overheating and thus actually performing like a Core m, HP says it designed the Spectre with a hyperbaric chamber. Two fans suck air through the bottom and blow it over the motherboard and CPU. It's then exhausted out the gold vents in back.
I'm curious how well the cooling setup will perform. HP says to expect reasonable performance given the form factor. I take that to mean it won't be fan-howling loud, nor will it be quite as fast as thicker laptops, such as Dell's XPS 13. As long as performance doesn't fall through the floor to the point where its Core i is meaningless, it should be OK. We won't know for sure until we get a review unit.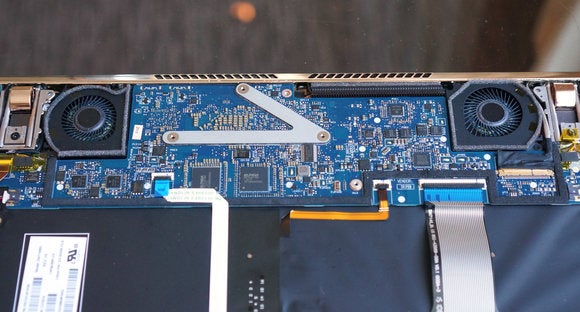 The Spectre 13.3's CPU resides on the other side of the metal bracket; it and the two fans (visible on either side) are sealed off in the "hyperbaric chamber" to create positive air pressure. Credit: Gordon Mah Ung
This hinge is cray-cray
The Spectre 13.3 boasts another interesting engineering feat, in the form of its unique, cabinet-style hideaway hinges.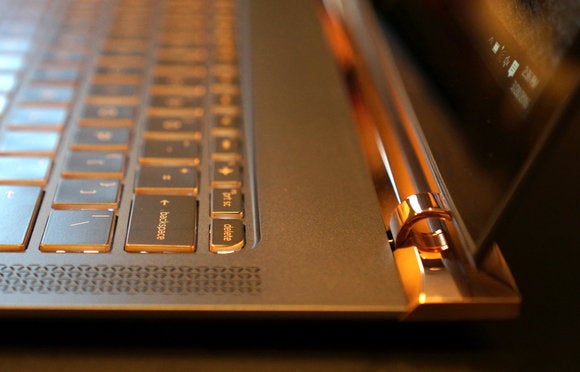 The HP Spectre 13.3's unique hinge up close. Credit: Gordon Mah Ung
So here's the really cool thing: In order to give the lid enough enough resistance so it doesn't flop around, HP integrates two pistons on each hinge.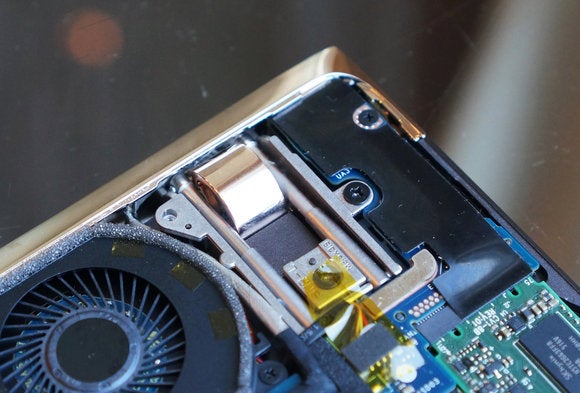 The cabinet-style hinge HP uses is compact yet stiff thanks to two tiny pistons. Credit: Gordon Mah Ung
The Spectre's display is a 1920x1080 IPS panel protected by a sheet of Gorilla Glass 4. HP says that higher-res or OLED screens aren't options because they add thickness. That's also why the company left a touchscreen off the menu.