Hands on: The OneCompute Moto Mod could turn your Android phone into your PC
It's like Windows 10 Continuum for Android! Start worrying, Microsoft.
We just saw Motorola do something with Android that up to now, only Windows 10 has been able to do. Motorola's OneCompute prototype Moto Mod takes the concept behind Windows 10's Continuum feature—the ability to project a Windows phone onto a PC—and ports it to Android. Shown at parent company Lenovo's Tech World exhibition Thursday in San Francisco, OneCompute could further blur the line between smartphone and desktop.
OneCompute is conceived as one of the magnetic Moto Mods add-ons that can clip on to Motorola's new phone, the Moto Z, announced Thursday. The OneCompute technology uses that Moto Mod as a wireless bridge to a wired dock. The dock communicates with a traditional monitor, providing a desktop-like experience.
Officially, Motorola employees said OneCompute is part of the Moto Mods Developer Kit, designed to show off the power of Moto Mods and lure third parties to the platform. But both the Moto Mod and dock itself are branded and have the appearance of near-final hardware. Without lengthy tests, it's difficult to tell what, if any, bugs may have crept in. But my gut says that Motorola plans to ship this as a product, and soon.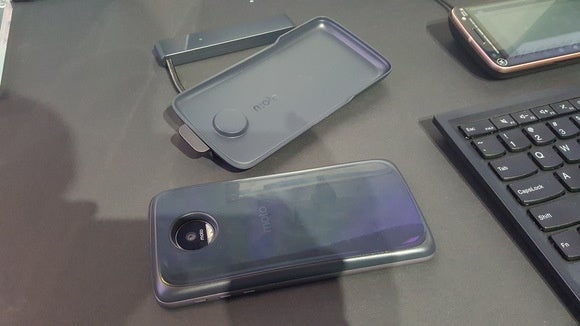 Mark Hachman Motorola's OneCompute hardware: the Moto Z phone, the OneCompute Moto Mod, and the dock.
Why this matters: Peter Hortensius, Lenovo's chief technology officer, cautioned reporters not to think of this as an Android version of Microsoft's Continuum. Duly noted. But he also pointed out the relatively low numbers of users who may own a Windows phone. (To be fair, Moto Mods will work with only one Android phone at launch, which means OneCompute's share—when and if it ships—could be equally minuscule.) Motorola showed off the Android version of Word Mobile running on a Moto Z, filling a widescreen monitor like it belonged there. Oh, and it ran in a window that could be snapped to the left or right, just like in Windows 10. A major productivity advantage the Windows Mobile platform enjoyed apparently just evaporated.
A Kiss to die for
On the rear of each Moto Z are sixteen metal bumps, which, when the Mods are magnetically attached on to the phone itself, provide electrical power and pass data back and forth. In the case of the JBL SoundBoost speaker or the Insta-Share Projector Moto Mod, all of the hardware is self-contained. Not so for the OneCompute.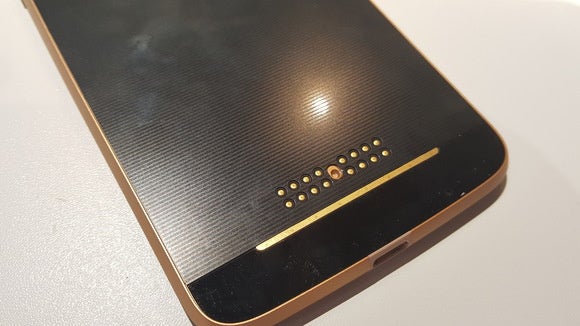 Mark Hachman The Moto Z's electrical connections are how the magic happens.
The OneCompute solution uses a Moto Mod with a chip embedded in it from Keyssa, a small Silicon Valley startup that hired the minds behind HDMI and the LPDDR4 memory standard, among others. The company's short-range Kiss wireless technology transfers data at about 6Gbps over very short ranges, and preserves USB, HDMI and DisplayPort protocols as well. (Acer built the Kiss technology into the Acer Aspire Switch 12 S and its associated dock.)