Hands on: The Moto Z Play brings down the cost of modularity
It may not be as fast as the other Moto Zs, but its epic battery life makes up for it.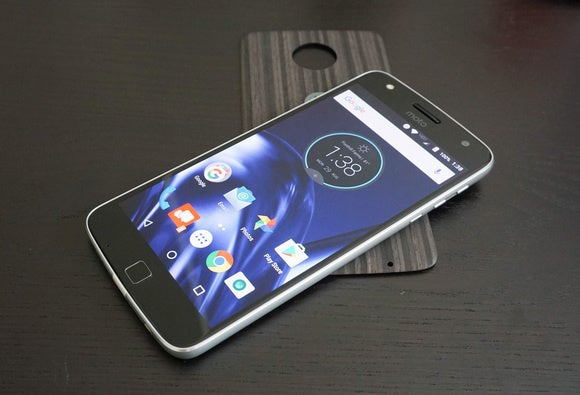 Is it a Moto Z Force or Moto Z Play? It's hard to tell at a glance.
The camera is different than the other two Moto Z phones, too. It's a 16-megapixel shooter with f/2.0 aperture and both phase-detect and laser autofocus, but it doesn't have the optical image stabilization of its more expensive cousins. In the few pictures I snapped with it, image quality was quite nice, and the camera was quick to focus, with very little shutter lag. A deeper camera analysis will have to wait for my full review.
Epic battery life
The Moto Z Play has a 3510 mAh battery, nearly identical to that in the Moto Z Force. But the lower-res display and slower system-on-chip use less power. The result is really impressive battery life: I had lots of juice left after more than 6 hours screen-on time. With the screen calibrated to 200 cd/m2, the phone lasted over 15 hours in the PCMark battery benchmark. This is one of the best results I've ever seen.
People often tell me that battery life is of primary importance when choosing a phone, but then they turn around and buy a phone with a super-fast processor and high-res display. Honestly, for most users, the greatly enhanced battery life you get with this phone is going to be more noticeable than the difference in resolution or processor speed.

Verizon exclusive, with all that entails
Like the other Moto Z phones, this one is a Verizon exclusive (for now). It will go on Sale on September 8 for $408 (or $17 a month for 24 months), That means you may or may not have the right bands available to you for GSM carriers overseas, and worse, you are saddled with Verizon's bloatware. I do not need (nor want) VZ Navigator, NFL Mobile, VZ Protect, or Verizon Cloud. These and about half a dozen other apps (including IMDb, Kindle, and Slacker) are preloaded and cannot be removed, only disabled.
Oh, and Verizon's track record of bringing Android Marshmallow to previous Moto phones is absolutely abysmal. Will they do better with Android Nougat? I wouldn't risk it—even if I was already a Verizon customer, I would want to wait for Moto to eventually sell the phone unlocked and see if that one will work on Verizon. On September 15, you'll be able to preorder the unlocked version for $449.99, with availability in October.