Hands on: The iPad Pro -- It's a laptop! It's a tablet!
Deciding whether Apple's new super-sized tablet suits you really depends on how it'll be used.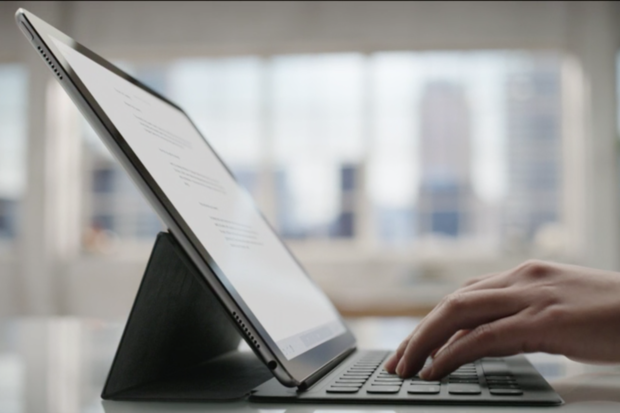 The iPad Pro is dauntingly big. It's also surprisingly thin -- 6.9mm thin, which is slimmer than an iPhone 6S.
It's not very heavy, clocking in at 1.57 well-balanced pounds. But that weight will become noticeable pretty quick if you're carrying Apple's newest, biggest and most expensive tablet around with you all day long. Add in the weight of a Smart Cover and Smart Case -- you're not really going to walk around with this tablet unprotected, are you? -- and the iPad Pro feels almost like a laptop.
Emphasis on almost. It's not a laptop, unless you decide to buy the optional Apple keyboard for $169. With that attached, it's sort of like a laptop, but not exactly.
Confused yet?
That's natural, since the iPad Pro, which went on sale Wednesday, really is more of a hybrid device that should work well for a variety of niche uses. For Apple, the question remains as to whether it'll goose sales in a meaningful way at a time when tablet interest seems to be waning. (Maybe that's why Apple executives have been offering very public pronouncements of late about how good the iPad Pro is.)
What is clear about the 12.9-in. Retina screen on the iPad Pro is that it's the best-looking tablet screen I've ever seen. It makes you want to use it, even if you're just surfing the web, checking email, tracking storms on radar or skimming through photos. With a 2732-x-2048-pixel resolution, it offers 264 pixels per inch; that's not quite as pixel dense as the screens on the iPhone 6S and 6S Plus, but it looks just as good.
If you're keeping tabs, the iPad Pro display has 5.6 million pixels, 78% more than the 7.9-in. iPad Air 2. And the iPad Air 2 is no slouch when it comes to beautiful displays.

On the larger iPad Pro display, home screen apps appear to be spaced too far apart. Credit: Ken Mingis
The iPad Pro line-up
The iPad Pro isn't cheap. It starts at $799 for the Wi-Fi-only model with just 32GB of storage. That's a tolerable amount if you don't plan on keeping a lot of videos or images stored on the device, but it's at the low end of tolerable -- especially since many people (to Apple's likely financial chagrin) tend to keep tablets for years. If you're at all concerned about storage, opt for the 128GB model. That one costs $949, or $1,079 if you need cellular connectivity, too. (These prices are in line with Microsoft's Surface Pro 4, which starts at $899 and goes to $1,799, albeit with more options for storage and processors.)