Hands-on: The Hasselblad True Zoom adds 10x optical zoom to your Moto Z
It'll give your Moto Z phone true 10x optical zoom, but it doesn't compete with standalone cameras.

In low indoor light, the True Zoom mod doesn't stand up to the best in-phone cameras.
Your camera mode options change a bit, too. You can shoot in color, black and white, or JPG & RAW, but the option to shoot HDR images disappears. It doesn't appear that the True Zoom has a particularly good dynamic range as cameras go, so it's a shame to see HDR get the boot.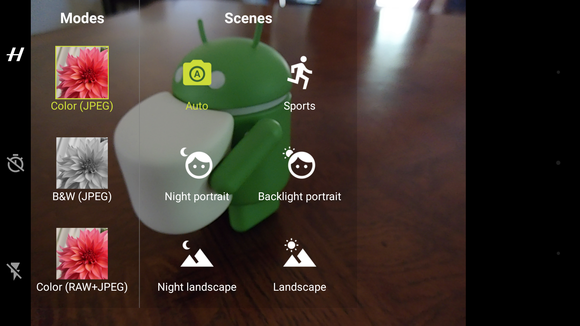 You gain a few scene modes, but lose HDR.
Also, burst mode appears to be effectively ruined by using the True Zoom. Because the camera data has to pass through the Moto Mod interface to the phone for display and processing, burst photos snap off at about one image every 1.5 seconds or so. The Moto Z Play I tested was about twice as fast during burst mode without the mod attached, and even that was slower than other phones on the market.
If you regularly take outdoor photos with your phone and find yourself missing the zoom from a point-and-shoot camera, this will absolutely give you that. And having the photos right there in your phone ready to edit or share is a lot more convenient than having them trapped in a separate camera. But in my first hour or so of use, the Hasselblad True Zoom doesn't otherwise improve camera quality in a notable way.

If lugging around a big camera attachment (there's a nice carry case included) just to get 10x optical zoom in good lighting conditions seems like it's worth $250 to you, this Moto Mod is worth it. I would prefer something with a larger sensor and more dynamic range that produces images far better than a phone is capable of, even if it drives up the price a bit. If I were going to spend $250 to take better pictures than I can with my phone, including optical zoom, I would buy a dedicated point-and-shoot (Canon and Nikon both make decent models in the $200-250 range).