Got an iPhone 7 or iPhone 7 Plus? Do these 10 things first
After you inhale that new-iPhone smell, follow this setup guide to be up and running faster than you can say A10 Fusion.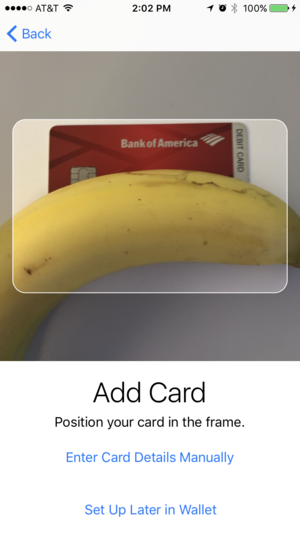 For best results, do not cover your debit card with a banana. Unless you're taking a screenshot to post on the Internet, and then by all means, banana it up.
Since you need to have Touch ID enabled in order to use Apple Pay, this would be a good time to jump into Apple's Wallet app to set that up. If you're new to Apple Pay, just follow the instructions within Wallet to add a credit card or two. If you already had Apple Pay on an iPhone 6, 6s, or SE, you'll notice that your credit cards have disappeared on your new iPhone. Why? For your security, of course. Your Wallet history will still be there, but you'll have to re-enter any payment cards you'd like to use with Apple Pay.
4. Choose the Home button's feel
The iPhone 7's Home button is less of a button than it used to be. Now it's not a separate cut-out button that moves down when you press it. It's completely fused with the rest of the iPhone's chin, so it no longer physically moves up and down. You can still find it with your thumb thanks to the metal Touch ID ring that surrounds it.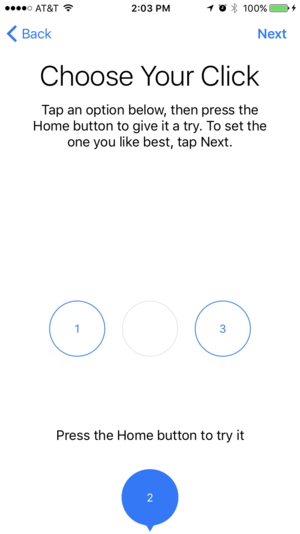 Pick a click, any click.
When you press the Home button, however, you'll still feel a vibration from the Taptic Engine, so it feels like you're clicking. (If you've used the Force Touch trackpads, it's the same effect—those don't physically click either, but a little vibration fools your mind into thinking they do.) It still takes a little getting used to the new feel, but to help the adjustment period, iOS 10 offers three click "feels" you can choose from. On this screen, tap the 1, the 2, or the 3, and then press the Home button to feel the difference between those clicks. Pick the one you like the best, and then tap Next at the top-right. If you want to change it up later, just visit Settings > General > Home Button.
5. Update your apps
Great, now you should be on your home screen at last. I like to hit up the App Store first—you'll want the latest versions of all of your apps in order to take advantage of all the new abilities Apple has given developers in iOS 10. (Your new iPhone 7 ships with iOS 10.0.1.) Adobe Lightroom, for example, now supports DNG, Adobe's RAW format. Drafts has an iMessage app that lets you share your notes in Apple's Messages app. And if you update Uber, you'll be able to have Siri order you up a car. We've got a list of some early iOS 10-ready apps for your convenience.
Previous Page 1 2 3 4 5 Next Page