Got an iPhone 6s or 6s Plus? Do these 10 things first
Your new iPhone is is finally here. Here are some essential steps to take first so you can get the most out of your new device.
When shooting a Live Photo, remember that the iPhone is recording video before and after you take the pic. You need to hold the phone steady for a couple of seconds before and after your shoot.
To see your Live Photos in action, you'll find them among your regular photos in the Photos app. When you swipe through your pics, the Live Photo animation will show and then stop. To see it again, perform a 3D touch on the Photo by pressing firmly and holding on the pic. You can share your Live Photos, but iOS 9, watchOS 2, and El Capitan (coming soon) are required to see the animation; otherwise, you'll just see the still pic.
9. 3D Touch everything
3D Touch offers a way to use your apps without actually opening them. A 3D Touch is performed by pressing down firmly (but don't hold down!) on an app's icon on your Home screen. A contextual menu pops up with a selection of tasks you can do. For example, 3D Touch the Phone app, and contacts you frequently call pop up; tap the one you want to call. Try 3D Touch on your apps on your Home screen; if you don't want to perform any of the functions, just tap away from the contextual menu. If an app doesn't have 3D Touch support yet (mostly third-party apps), the screen will blur and you'll feel haptic feedback, but then the screen will go back to normal.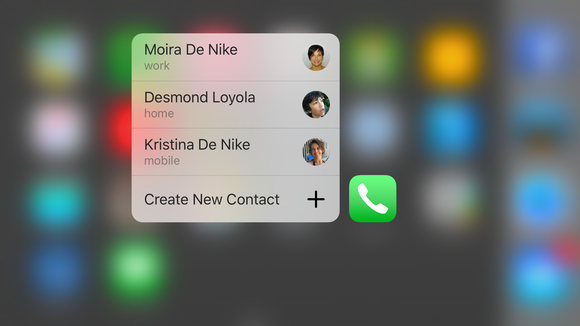 You can do 3D Touch within some apps, too. Try doing a "peek and pop" in Mail, which lets you preview and open a message. Open Mail and go to an inbox. Press down firmly and hold it on an email: This is a "peek" where a preview of the message appears. Now press down more firmly on the email preview: This is the "pop" and opens the message in Mail. Peek and pop works in Messages, Music, Calendar, and other apps. Open up an app and give it a try.
10. Check out News and Notes
Apple completely revamped two of its core apps, making them tremendously more exciting. First is News, which ditches the ugly layout of Newsstand and replaces it with an elegant, Flipboard-style news feed.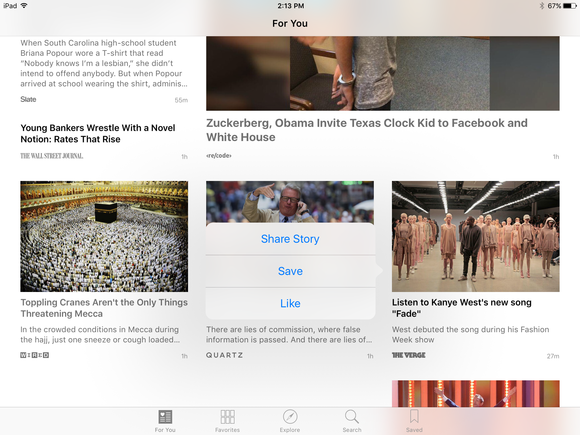 Notes also got a ton of love, with new capabilities to sketch notes with your finger, use more complex formatting, and embed content from other apps.
11. Call your mom
Previous Page 1 2 3 4 Next Page