Got an iPhone 6s or 6s Plus? Do these 10 things first
Your new iPhone is is finally here. Here are some essential steps to take first so you can get the most out of your new device.
Since you need to have Touch ID enabled in order to use Apple Pay, this would be a good time to jump into Apple's Wallet app (formerly known as Passbook) to set that up. If you're new to Apple Pay, just follow the instructions within Wallet to add a credit card or two. If you previously had an iPhone 6 or 6 Plus, you'll notice that your credit cards have disappeared on your new iPhone. Why? For your security, of course. Your Wallet history will still be there, but you'll have to re-enter any payment cards you'd like to use with Apple Pay.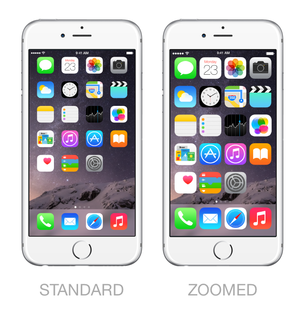 5. Pick a size with Display Zoom
If you didn't have an iPhone 6 or 6 Plus, this will be a new feature to pay attention to. You can enlarge the default view on your iPhone, which will zap away a row of icon space but makes everything easier on the eyes. Apple helpfully gives you a three-panel preview, including how the home screen would look with each setting, as well as a sample Messages screen and a sample email in Mail.You can always change this up in the settings if your first choice isn't to your liking.
6. Peruse the settings
The settings aren't all that much different in iOS 9 (your device should arrive with iOS 9.0.1 ready to roll) but there are a few new things to consider. Check out our settings guide to see what is located where so you don't get lost. And don't forget, you can now search now for any items located in the iPhone Settings app. 
7. Update your apps
You'll want the latest versions of all of your apps in order to take advantage of all of the cool, new tricks that come with iOS 9. Several apps take advantage of Spotlight indexing, which allows you to find information inside of them with a simple search. A few apps also got an early invite to the 3D Touch party, like Instagram. Here's a whole batch of apps that are ready for iOS 9. 
You can have all your apps auto-update by flipping the Updates switch in Settings > iTunes & App Stores > Automatic Downloads. Or, you can manually update your apps one by one and check out the "What's New" release notes to see what has changed. 
8. Try a Live Photo
A Live Photo is a photo that also serves as a mini three-second video. Essentially, the iPhone captures 1.5 seconds of video before and after you snap your pic. To take a Live Photo, go into the Camera app and switch to Photo mode (it won't work in Square or Pano photo modes). In the top row of icons (or the side if you're shooting horizontally), you'll find a new, bull's-eye-like icon. This is the Live Photo icon, and if it's orange, it's on; if it's white, it's off. Tap it to turn it on or off.
Previous Page 1 2 3 4 Next Page