Get to know Messages in iOS 10, Apple's overloaded attack on Snapchat
Emoji, visual effects, and third-party integrations make Messages more than a texting app.
Digital Touch
A feature that originated on the Apple Watch has come to iOS 10. Tap on the icon with the heart and the two fingers that sits on the right of the input field to access Digital Touch. Here, you can doodle and insert animations on either a black canvas or on a photo or video. Select from seven colors on the right of the canvas and you can use one finger to sketch, hold two fingers to create a beating heart, tap gently to create a vanishing circle made out of particles, tap with two fingers to create lips, drag down with two fingers to create a broken heart, and press down to create a glowing burst. You can tap on the camera icon on the left to add all these animations to a selfie, too.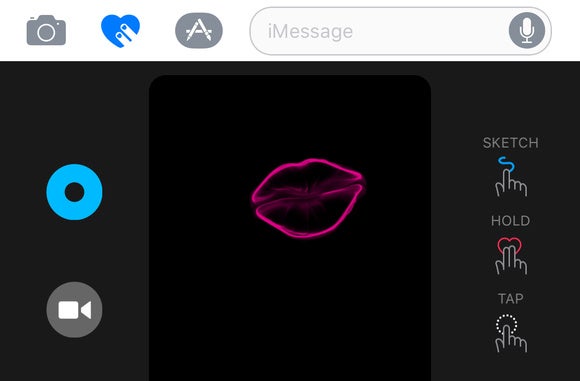 Just be aware that as soon as you let go of your fingers on the black canvas, the animation will be sent to the recipient, so make sure you have a clear vision of what you want to create before putting pen to paper, or finger to screen in this case. These animated cards show up on the Apple Watch, as well, as long as it's running the latest watchOS 3. They show up as still attachments on iOS 9.
Handwriting
Digital Touch is not the only way you can use your finger to express yourself in the new Messages. Turn your iPhone horizontally to landscape mode, and you'll be able to use handwriting. Here, you can select from seven pre-populated handwritten messages like "happy birthday" and "thinking of you." Or you can just keep the font and create your own message by tapping "Clear" towards the top.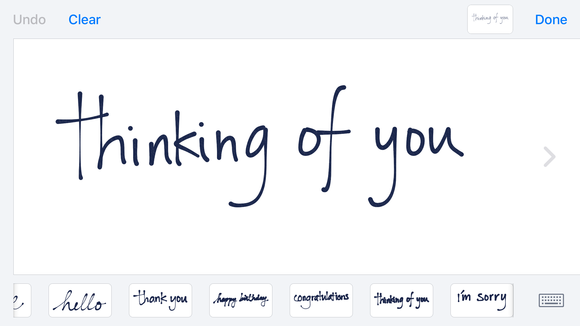 If the recipient has installed iOS 10 as well, these messages are displayed stroke by stroke, as if they had been handwritten in real-time. The ink also has a drying effect for an authentic pen-on-paper feel. If the recipient has iOS 9, these handwritten messages show up as still attachments.
App Store and third-party integrations
Perhaps the most profound change iOS 10 brings to Message is the integration of third-party integrations, turning iMessage into a platform. Access your iMessage app drawer by tapping on the icon right next to the input field on the left. The launch iMessage apps include Recents, Music, and Images. As with iOS apps, you can press down on them to make them wiggle and rearrange them or delete them.