Get to know Messages in iOS 10, Apple's overloaded attack on Snapchat
Emoji, visual effects, and third-party integrations make Messages more than a texting app.
Apple worked for an entire year on a new file system, but according to Craig Federighi, "every time we'd add a couple new emoji, it would be the biggest thing." So, in iOS 10 emojis are three times bigger. Not only that, but Apple added a handful of visual tricks to Messages, and transformed iMessage into a platform for third-party apps.
Needless to say, there's a lot you can do in the new Message, so let's get started. These features have been made available via the iOS 10 public beta, but we expect them to get refined before the final iOS release this fall. You can read how to install the public beta here.
In addition, the recipient will also need to have installed iOS 10 in order to view most of these messages in all their eye-popping glory. Otherwise they show up as regular text with a description of what the visual should have been, like (sent with fireworks). Not nearly as captivating. And Android users won't be able to experience these visual effects at all.
Emoji nation
When Apple announced that emojis in iOS 10 would be three times bigger during WWDC, the crowd cheered. In order to get the super-sized versions, however, you have to send an message containing only emojis. Adding text shows regular-sized emojis.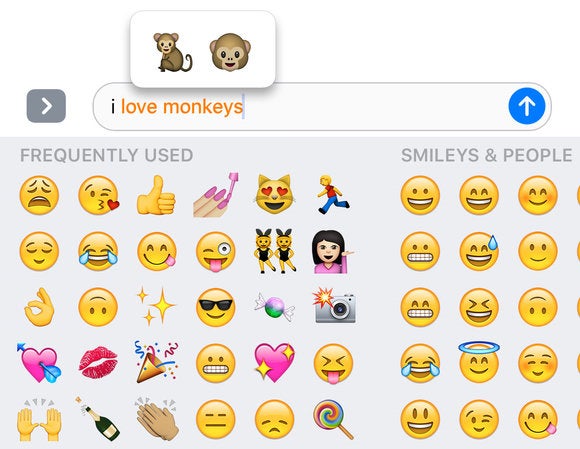 On top of that, Messages has a new emoji replacement tool for converting keywords into corresponding emojis. For example, the text "I love monkeys" turns into "I 💖 🐒" – all you have to do is compose your message and then tap on the the emoji button. Then tap on the highlighted keywords to choose from the corresponding emojis.
Bubble and full-screen effects
If sending an emojified message is not enough to grab your friend's attention, you can rely on all-new bubble effects and full-screen visuals. After typing your message, press down on the blue up-arrow on the right of the input field. That will take you a "send with effect" page where you can slide up to select your text to appear as "Gentle" like a whisper, "Loud" as if you're yelling, or "Slam" down on the screen. Here, you can also choose "Invisible Ink" to send a hidden message or photo that the recipient can reveal by swiping away the particles.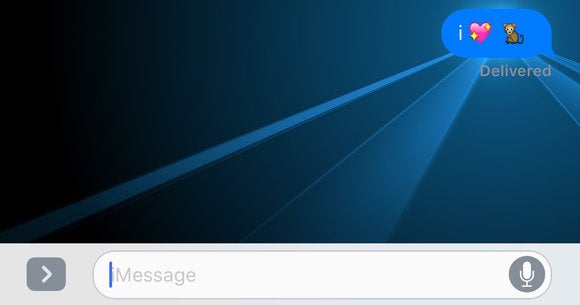 Toggle from these bubble effects to screen effects to send your message with a full-screen animation. Swipe between sending with balloons, confetti, lasers, fireworks, or shooting star. The effects appear for a few seconds when the recipient opens the message. Lasers, fireworks, and shooting star also come with sound, because how can anyone take a fireworks show seriously without the bursting sounds. After you've selected an effect, you can press the blue up-arrow again to send or the x to cancel.