Get to know iOS 10's radically new lock screen
You can now interact with your iPhone or iPad without even unlocking it.
There are tons of changes coming in iOS 10, but the most dramatic, immediately visible change is happening on your lock screen. Nothing works the way it did before. Things are about to get weird, but we'll get through it together.
Raise to Wake
If you have a new iPhone—6s, 6s Plus, or SE—the changes will appear instantly. When you pick up your phone, your screen will wake to display the time. It's a small change, one already in use on the Apple Watch (and on Android phones), but it eliminates the pain point of having to press a button just to see the time.
Relearning how to swipe
The launch of Touch ID made Slide to Unlock, a now-quaint feature that delighted audiences when the iPhone debuted, a little unnecessary. Slide to Unlock was still essential in rare cases when Touch ID failed (if your hands were damp or you were wearing gloves), but now it's gone. In iOS 10, you press the Home button to unlock your device with a passcode if Touch ID doesn't work. It's a little awkward to unlearn this ingrained behavior, and to be honest, I kind of hate press to unlock. But it's happening.
Why?
Now when you swipe right, you'll see a completely overhauled Spotlight section with customizable widgets where Siri's suggested apps and contacts, nearby locales, and news headlines once lived. The smarter Spotlight section we were promised in iOS 9 comes to life in iOS 10. But more on that in a second.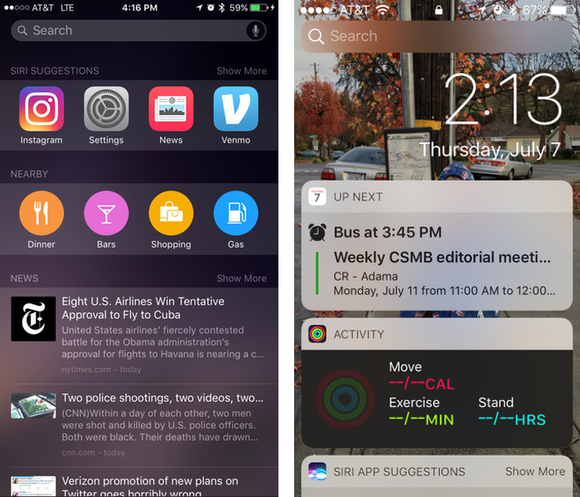 The Spotlight screen in iOS 9 (left) versus the overhauled screen in iOS 10 (right).
You'll also notice there's no more Camera icon on the lock screen. Instead of swiping up from that icon to jump into the Camera, your new shortcut is a swipe left on the lock screen. It's just as easy, but again, it's a new behavior to learn.
Swiping down on the lock screen is still the way to jump into your Notification Center, but you can access the Spotlight screen of widgets from that view, too (it's the "Today" tab in Notification Center, just no longer labeled Today). Anywhere you go, the Spotlight screen will be there. And that's where the widgets are.
Widgets, widgets everywhere
iOS already had widgets, but iOS 10 takes them to the next level. Apple took the same widgets from the Today tab when you swipe down to view your Notification Center and put them on the Spotlight screen. Now those widgets are accessible anywhere you are—from the lock screen, from the home screen, or from the Notification Center.