Galaxy Note7 may be headed for the dump as carriers cancel sales
Samsung 'adjusting' production as replacement units apparently overheat, catch fire; investigations ongoing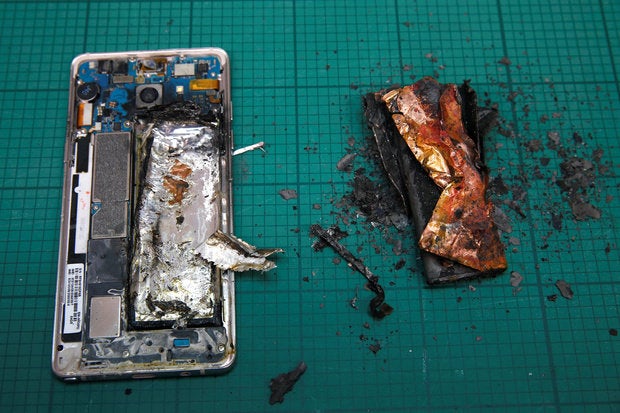 Samsung's Galaxy Note7 smartphone may be headed for the trash bin, something that could cost the South Korean company $3 billion and damage to its brand after new reports that a handful of replacement units overheated.
Early Monday, Samsung said it was "temporarily adjusting the Galaxy Note7 production schedule in order to take further steps to ensure quality and safety matters."
The statement came after most U.S. carriers stopped sales and exchanges of the Note7 over the weekend and an unnamed source said Samsung had temporarily halted production and was not merely "adusting the ...production schedule."
Samsung didn't clarify what it meant by "adjusting the...production schedule."
Samsung and the U.S. Consumer Product Safety Commission (CPSC) are still investigating reports of smoke and burns from replacement Note7 devices, but the agency was closed Monday and officials could not be reached for a comment on their investigation.
While there are as many as seven reports of replacement Note7s that have overheated or caught fire or emitted smoke, the most disruptive incident led to heavy smoke billowing into the cabin of a parked Southwest Airlines flight last Wednesday, causing an evacuation. No one was injured.
Analysts said the latest reports strongly suggest Samsung might want to pack it in on the Note7 and Note7 replacements.
"I think they should move on from the Note7 at this stage," said Carolina Milanesi, an analyst at Creative Strategies. "If they wanted to leave all of this behind, they could potentially come out with a similar device under a different name for the upcoming Note8."
If they continue to use the Note8 name, she added, "the moment the Note8 comes out, everybody will resurrect the story of the Note7 blowing up. This story is not going to go away quickly."
She and other analysts urged Samsung to fully investigate the Note7 fires and give the public full details on what happened and what was done to fix any problems. "Halting production when carriers have stopped selling is the sensible thing to do from a business perspective," Milanesi added.
"Clearly this is a black eye for Samsung," said Jack Gold, an analyst at J. Gold Associates. "Samsung can't let this fester in the minds of its customers. It has to get to the bottom of the problem and soon."
Patrick Moorhead, an analyst at Moor Insights and Strategy, said Samsung did the right thing in urging a global recall of the original Note7 devices on Sept. 2. "They had done a good job with the recall, but now things are really bad," he said Monday.
Moorhead said his estimate of the cost to suspend sales of the Note7, pay for replacements and not be able to re-use any of the components from the original or replacement units will be $2 billion to $3 billion. That doesn't include the hit on the Samsung brand and its other smartphones.