Galaxy Note 5 review: Continuing Samsung's reign as the King of Phablets
Seriously, we didn't think that the Note series could get any better, but it did. This phone-tablet puts even the smaller Galaxy S6 to shame.

Hey Samsung, why can't ya just let me choose the placement of the navigation buttons? Credit: Florence Ion
The Note 5's Quad HD Super AMOLED display is just vibrant as its siblings, and even brighter. Because of the screen's larger size, you can actually share a video with a friend without worrying that they can't see much. My fiancé and I spent time going through our YouTube subscriptions on the Note 5 and we were pretty comfortable watching it together on its 5.7-inch display. The only set back was that I could only hold the phone a certain way, lest I was muffling the tiny speakers on the bottom side.
The larger screen size is also great for productivity. I have a better grip for thumb typing, so emails can be penned more quickly. Editing and cropping photos and videos is much easier, and reading an ebook or digital magazine is possible without bumping up the font size. As an added bonus, Samsung optimized the display so that it doesn't use up as much energy at a given brightness level. So, if you like to read on your phone, have at it! The Note 5 can handle it.
Phenomenal performance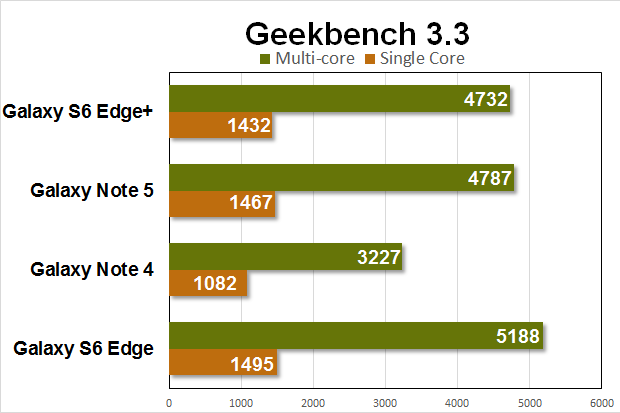 The Galaxy Note 5 smashed its precedessor in our performance benchmarks, though it's quite on par with this year's smaller-sized flagships. Click image to enlarge. Credit: Jason Cross
The US-variant of the Galaxy Note 4 came with a Snapdragon 805 processor, which was a good chip, but not as fast as Samsung's latest Exynos. The Galaxy Note 5 runs the same 64-bit Exynos 7 Octa 7420 processor as the Galaxy S6 and S6 Edge. It's fast, it's furious, and it's also energy efficient. I put all the benchmarks into their own article so you can see an in-depth rundown of the Note 5, including whether its 4GB of RAM actually helps performance. (Hint: it does.) Just be warned that this phone gets almost scalding on hot days—I was not thrilled benchmarking it in 109-degree California heat, and had to stop for fear of burning my hands.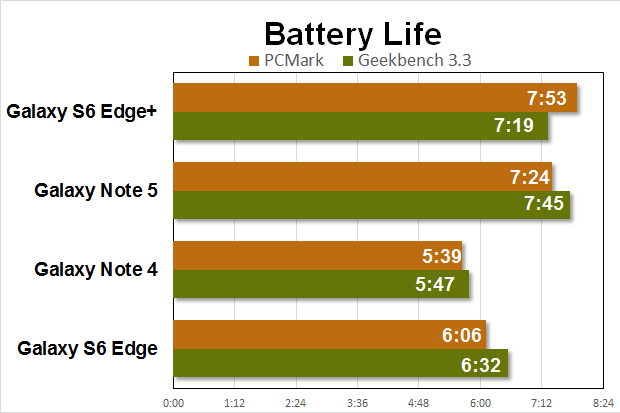 The Galaxy Note 5 lasted almost 8 hours in our battery tests. Click the image to enlarge. Credit Jason Cross
I published these same battery results in the aforementioned benchmarks article, but I want to reiterate that my day-to-day experience with the Galaxy Note 5 mirrors what the chart shows above. The Galaxy Note 5 lasts a really long time with varying usage, and that's with location, Wi-Fi, and data on. Granted, if you're using turn-by-turn directions or playing a game, you're going to use up juice much more quickly than you would leaving the phone in your bag with the display off. But I like that I can do the latter without worrying that the phone is dying just by being on.
Previous Page 1 2 3 4 5 Next Page