From bad to worse: The sad reality about Windows Phones
Windows 10 Mobile is still under active development, but nobody's buying—and Microsoft seems to be okay with that.
But developers aren't required to release UWP apps that support all form factors, and some of the biggest services around are bypassing Windows Phones. Twitter's Vine recently came to the Windows Store in UWP form absent a mobile version. True, there's already a Windows Phone 8.x version available, but if converting an app built for Windows 10 PCs to Windows 10 Mobile is so easy why hasn't Twitter done it yet?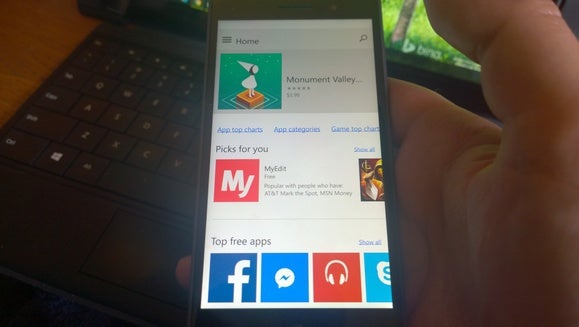 Mark Hachman
Then there's Facebook. In late April, the company released UWP versions of Facebook and Messenger. That release was also PC/tablet only, with no mobile versions in sight. Facebook says the UWP versions will land on mobile later this year, which once again suggests the conversion process isn't so simple.
Still not enough
Assuming that Facebook and Twitter are just too lazy to tweak a few lines of code, a strong UWP app selection still means we'll see an app store filled with holes. Microsoft's UWP strategy depends on developers that are creating apps for PCs and tablets to make that extra effort to support phones. Even if that happens, Windows 10 Mobile users will only get apps that make sense for PCs and tablets first. Phone-centric apps like Snapchat will continue to be no shows.
A silver lining quickly going gray
The only sliver of hope for the future is that Microsoft is still actively developing Windows 10 Mobile software. As long as that continues there's always hope, but signs of rebirth for Windows 10 Mobile need to happen now.
The Windows Store needs to get a larger roster of top tier apps before the end of 2016. On top of that, we need to see a jaw dropping phone coupled with enthusiastic carrier support that puts the phone in millions of hands.
If either of those pieces are missing it will be just more of the same: dismal sales and lagging developer support.