Focus turns to mobile Windows 10 and Lumia flagships
Now that Windows 10 is out, focus is turning to Windows 10 Mobile running on Windows Phones, with flagship Lumia models expected in the fall.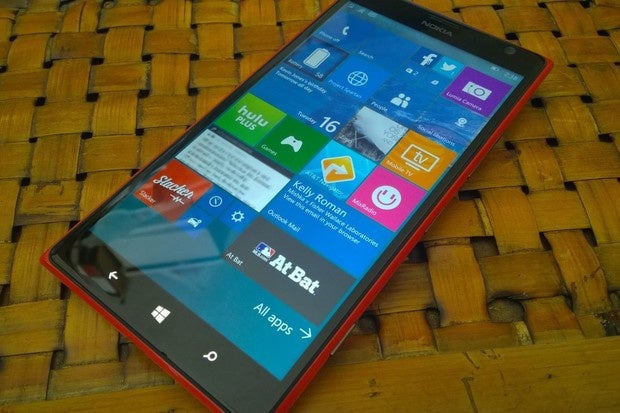 Now that Windows 10 is out, focus is turning to Windows 10 Mobile running on Windows Phones, with flagship Lumia models expected in the fall.
Confirming recent rumors, Juniper Research analyst Sam Smith said by email Thursday that the Lumia 950 and Lumia 950XL will ship with Windows 10 natively.
Microsoft didn't comment on Thursday, but company officials said as early as March at Mobile World Congress that Lumia models running Windows 10 would ship in the fall. The speculation is that a formal announcement will occur in September, with shipments starting in October.
Smith said the 950 will probably run a 64-bit Snapdragon 808 processor, with the 950XL running a slightly more powerful 64-bit Snapdragon 810 processor. That might not sound like a big difference, but Smith said that, as a result, the 950 might not be able to support the Continuum feature of Windows 10. Continuum is the ability to plug a device into a keyboard and use it as you would a desktop, which works toward the universal platform concept that Microsoft has heavily promoted.
Not providing Continuum support in the Lumia 950 "would be a monumental misstep for the new OS, to have a flagship device unable to run one of the OS's headline features," Smith added.
Other specs of the two phones, as reported recently by Chinese technology website IT Home, refer to the 950 by the codename "Talkman" and the 950 XL by the codename "Cityman."
The 950, according to the site, will have a 5.2-in. display, 3GB of memory, 32GB of internal storage with a microSD slot for storage expansion, a 3,000mAh removable battery and support for LTE wireless.
The 950XL will have many of the same features as the 950, but with a larger 5.7-in display and 3,300mAh removable battery, according to IT Home.
There are also rumors that Microsoft will release a high-end smartphone with a front-facing LED flash.
Windows Phone has trailed in the smartphone market, consistently garnering less than 5 percent market share. But various analysts have predicted that the Windows 10 Mobile innovations could grow that share, based on Microsoft's universal platform concept that allows apps to work on desktops, tablets and phones.
"We expect a short-term uptake of Windows Phones, based on the new features that Windows 10 offers," Smith said via email. "However, any increase in Windows phones overall will be slow, as it will take time for the app ecosystem to accelerate for developers to incorporate another OS on top of the Android/iOS duopoly."
Without that ecosystem, he added, "consumer adoption will be reluctant." In other words, universal apps will "hasten any migration of consumers from iOS and Android," he said. "But if the main body of Windows Phone are simply iOS/Android ports, there is little software-based incentive to switch. If universal apps for Windows on mobile have unique capabilities, then they will have stronger appeal."