First impressions: The iPad Pro is 'wicked fast'
Using Apple's new tablet is a joy; the hard part is actually getting the one you need
The iPad Pro is the biggest thing to happen to Apple's iPad line-up. Yes, that's a pun, and I apologize for using it, but it's also true.
Although Apple has gone smaller and thinner with iPads before -- the 7.9-in. mini, for instance -- until this past week, it had never gone bigger. The result of that move is the 12.9-in. iPad Pro, which starts at $799 for a 32GB model and goes all the way to $1,079 for a 128GB version with both Wi-Fi and LTE cellular connectivity -- accessories not included.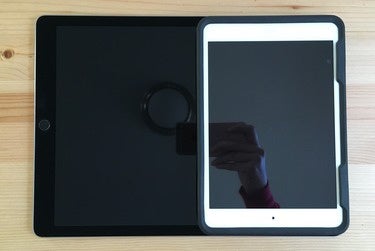 Susie Ochs The iPad Pro dwarfs an iPad mini (right)
In fact, getting your hands on those accessories, the new Smart Keyboard and Apple Pencil for the iPad Pro, is harder than getting the tablet itself. And getting the exact iPad Pro you need isn't easy either.
The hunt for the right one
From what I've seen online and in actual stores since the iPad Pro arrived Wednesday, the top-end models are selling out nearly as fast as stores get them in. I should know. Over the course of three days I briefly "owned" three iPad Pros: The 32GB model I got on Wednesday (when the 128GB versions in Space Gray sold out at the local Apple Store); a 128GB version I picked up on Friday when the local Best Buy got a few in stock; and finally, the unicorn model I had wanted all along: the $1,079 iPad Pro with LTE and GPS I snagged at the Cambridgeside Apple Store Friday night.
It's easy to see why they're selling so quickly: The new iPad Pro features a wicked fast third-generation, 64-bit Apple A9X chip, 4GB of memory, 10-hour estimated battery life, and that absolutely gorgeous 12.9-in. 2732-x-2048-pixel Retina display that is packed with more pixels than the 15-in. MacBook Pro. With its large screen and with the optional keyboard case and Apple Pencil, I can easily see the iPad Pro attracting a lot of attention from everyday computer users and businesses alike.
The reason, in a word: Flexibility. The iPad Pro serves a broader range of needs than any previous iPad, especially when you factor in the Pencil, which allows the iPad Pro to be used more effectively when precision is a requirement. (Shipping dates are currently four to five weeks out for both the Pencil and Keyboard case accessories, so if you're eyeing these devices for yourself or as holiday gifts, order soon.)

The Apple Pencil makes the new iPad Pro more versatile than any of its predecessors.
In the box