FAQ: How Apple's new App Store subscriptions affect you
Apple's pre-WWDC surprise announcement of changes to the App Store's subscription policy has left a lot of questions in the air. We have answers for many.
We wonder about other scenarios. How will that play out if you purchase a subscription that includes cloud storage associated with an app? Will it be deleted at the end of a subscription, rendered read-only, or available indefinitely but no new items can be created? What if you create locally stored documents using features in an app that were enabled only with a subscription? Will those documents be unreadable? We hope to find out, and we expect Apple will factor this into their review process and approvals.
How will multiple subscription options be managed?
Apple will now let developers have multiple subscriptions in one app. We could imagine an app that offers lessons to students that might have different levels and different subjects. So you could subscribe to math for grade 2, science for grade 5, and music theory for grade 12.
Apple tells developers they can set up subscription groups so that someone can't accidentally pay for a piece (like grade 2 math) and a larger encompassing subscription (like all subjects for grade 2).
What happens to apps I've purchased if they switch to a subscription model?
Your guess is as good as ours. We expect Apple will enforce some kind of parity-with-what-you-paid-for policy. A developer might stop putting new features into an existing app, and release a new app that's rejiggered around subscriptions, and you'll ostensibly have no recourse.
Does this change allow apps to offer a free trial?
Sort of. Apple lets developers optionally offer a free trial for in-app purchase subscriptions, which range from 7 days for a one-month recurring subscription to one month for a one-year term. If an app requires a subscription to use at all, then a free trial of the subscription effectively translates to a free trial of the app. An app that has some features and sells the rest with subscription can also offer a free trial just of those added options.
However, most apps will remain free or sold for a fee with or without IAPs, and work under the old rules, which don't allow trials and demo versions.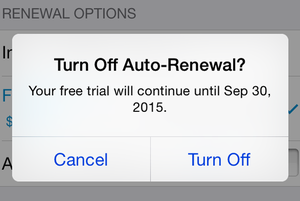 Apple will allow developers to offer trial subscriptions, just like Apple has for Apple Music.
Is Apple allowing demo versions of apps?
No. Apps with subscriptions have to work with all features available during a free trial or when someone is paying. It's possible Apple would approve a subscription-based app that had very minimal features outside the subscription purchase, but it seems unlikely given the company's general policies.
Does this provide an upgrade path for developers?
If app makers have an app approved in which all the functionality is available only by subscription, then some could switch to subscriptions effectively covering upgrade costs—you just buy in at any time to get the current set of features.
Previous Page 1 2 3 4 Next Page