Evernote and OneNote users explain why their app is better
Loyal Evernote and Microsoft OneNote users share reasons why they choose one note-taking app over the other and shine a light on each option's strengths and weaknesses.
5) Evernote has better search
Evernote's search capabilities are more sophisticated than OneNote's, according to Lisa Chu, owner of Black N Bianco Kids Clothing.
All of your Evernote notes are immediately accessible, and searchable, from any device via the Evernote app. OneNote users on some platforms need to download notebooks they want to view on each individual device to search or access those notes. Once downloaded, however, those OneNote notes remain accessible on the devices.
5 reasons to pick OneNote over Evernote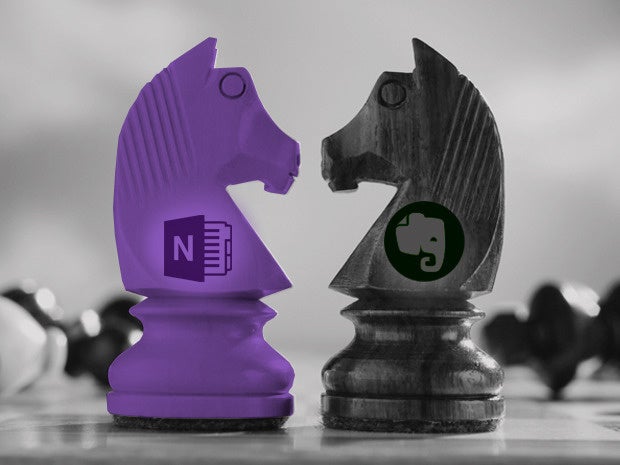 1) OneNote ease of use and organization
"I find OneNote to be way easier to use and a lot more intuitive than Evernote," says Melanie Lajeunesse, CEO of Friendly Reminders. "I like the way OneNote is set up with the notebooks and tabs and pages within those tabs. My brain works that way so I can really easily figure out how to organize my notes. I never really understood Evernote's organization system. It shows all your notes at the same time in those squares; it just doesn't make sense to me."
2) Sharing notes via OneNote is free
OneNote is a free download (though that wasn't always the case), and it lets people share files with other OneNote users at no charge. (However, if a company pays for Microsoft SharePoint or uses OneNote as part of a paid Office 365 subscription, OneNote sharing isn't truly "free.")
Evernote also has a free version, but Evernote Plus ($25 a year) or Evernote Premium ($50 a year) memberships are required to share notes.
3) OneNote's free offline access
"I'm using OneNote for many reasons, but the main one is that unlike Evernote, you can use OneNote without an Internet connection for free," says Yuval Aharon, owner of Rated Radar Detector. Aharon says he sometimes travels to areas where there's no Internet access, which makes OneNote more valuable to him. (OneNote offline access is free, but Evernote users must subscribe to Plus or Premium plans for offline access.)
4) OneNote 'free-form canvas'
OneNote's "free-form canvas" structure makes it easy to move text and images around, and mix handwritten annotations with typed notes. Evernote's structure, by comparison, is more restrictive.
"I recently switched from Evernote to OneNote because Evernote doesn't allow typed notes to be positioned in a way where they can be mixed with inked notes," says Ravi Sakaria, president and CEO of VoicePulse Inc., who has used both Evernote and OneNote extensively.
"I often use a pen and tablet to sketch and handwrite ideas," he says. "And when I'm at my desktop computer, I need to easily add thoughts via the keyboard. In Evernote, those two things (the typed notes and the inked notes) are separate. In OneNote, I can easily drag and drop either one and position typed notes freely on a page."