Evernote and OneNote users explain why their app is better
Loyal Evernote and Microsoft OneNote users share reasons why they choose one note-taking app over the other and shine a light on each option's strengths and weaknesses.

Credit: Enrique Fernández
The debate over whether Evernote or Microsoft OneNote is a better note-taking application rages on.
Of course, the two apps do most of the same things. Evernote and OneNote both let you create digital archives for all sorts of notes and clipped Web content. And Microsoft and Evernote regularly add new features and enhancements, which can make choosing between the two — or jumping from one to the other — a tough task.
To find out why Evernote users choose that app, and why OneNote user go the Microsoft route, we posted a query on website Help a Reporter Out. We asked Evernote and OneNote users to tell us which app they prefer and why, and we received a total of 16 responses (10 in favor of Evernote, six for OneNote).
Though this admittedly unscientific survey represents only a small percentage of the Evernote and OneNote user bases, the responses spotlight the apps' strengths and weakness and can help you determine whether Evernote or OneNote is a better fit for you.
5 reasons to pick Evernote over OneNote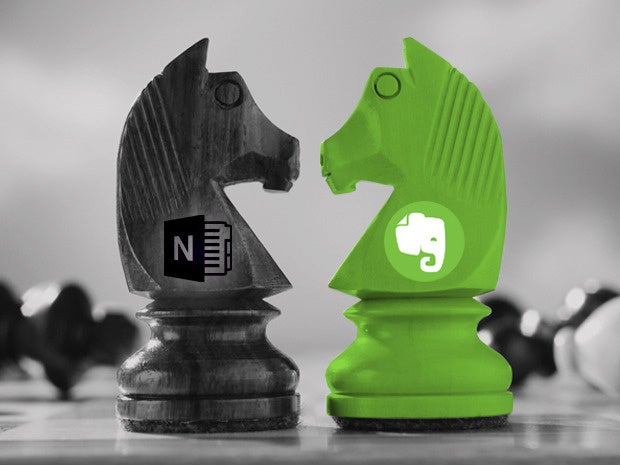 1) Evernote ease of use
"I chose Evernote because it's so easy to use and I can easily sync notes across all my devices," says Deirdre Breakenridge, CEO of Pure Performance Communications. "Evernote was also highly recommended by members of my Twitter community. It's the best thing since yellow Post-It notes."
2) Evernote cloud integration is seamless
"I was a heavy OneNote user for about eight years prior to jumping to Evernote," says Greg Spillane, COO of Events.com. However, Spillane had "a lot of problems" with OneDrive, Microsoft's cloud storage and file sync service, which is used to store OneNote notebooks. OneNote sometimes dropped its connection to OneDrive, causing him to lose notes, Spillane says. Eventually, he switched to Evernote, which he says offers "seamless integration" with the Evernote cloud and reliable access to saved notes.
3) Evernote's large ecosystem
Evernote's API is used by a wide variety of developers of apps, plug-ins, hardware devices (such as scanners), and even Moleskine, which makes paper notebooks. Evernote's large ecosystem makes it even easier to clip Web content and save email to Evernote notebooks, according to Spillane. OneNote doesn't integrate with nearly as many apps or devices.
4) Evernote automates lots of business tasks
Thanks to its large ecosystem, Evernote integration can be used to automate many business tasks, according to Ruggero Loda, founder of Running Shoes Guru. Loda set up rules in automation tool Zapier, for example, so his email invoices are automatically forwarded to a specific Evernote notebook. "This way, when the quarter ends and I need to file my taxes, most of the receipts for my recurring expenses are already in one Evernote notebook, which I can send to my accountant."